Alumni
Alumni Association's 2011 Awards Honor Distinguished Graduates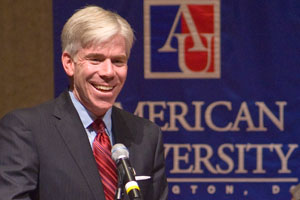 American University's Alumni Board awarded its highest award honors to impressive graduates on Saturday, October 22. The 2011 Alumni Awards Ceremony and Reception was hosted on campus as part of All-American Weekend.

Each winner epitomizes the type of smart, passionate, focused, and engaged alumni wonks of whom the university is proud. "With so many accomplished and well deserving alumni, it was definitely not an easy decision to choose our awardees this year," said Alumni Board member Jennifer Collins, '94, chair of the awards committee.

Meet the Press host David M. Gregory, a 1992 alumnus from the School of International Service, received the Alumni Achievement Award. This award recognizes alumni who have distinguished themselves through their professional accomplishments. Gregory graciously accepted the award, saying "I still consider myself a work in progress." 
Speaking of his time at AU, Gregory said, "It was a time in my life when I was very ambitious and very dedicated to what I wanted to do...but what awakened in me here was true curiosity, a love of learning, and a true desire to be stimulated through my work."

Karen L. Bune, a double alumna earning bachelors and master degrees in 1976 and 1978, received the Alumni Recognition Award, which honors alumni who inspire the world around them through service to a philanthropic mission or the AU community. 
Bune recognized AU's faculty in accepting her award and said that she would not have returned to AU for her master's degree had it not been for the kind words of an encouraging professor, Dr. Ronald Weiner. "He was very passionate about his work, and that passion rubbed off on me," she recalled.

Brian F. Keane, a 1989 alumnus of the School of Public Affairs, earned the first-ever Alumni Eagle Award, which recognizes alumni who have rendered outstanding service to the University and/or the Alumni Association. Keane said, "The honor that I had was actually just to be the president of the Alumni Association."

Talila A. Lewis, who received her bachelor's degree from the School of Public Affairs in 2007, accepted the Rising Star Award. This award is bestowed upon young alumni who are already making significant contributions to greater society through professional or philanthropic work. In her remarks, Lewis called herself "a proud legacy" of her fellow honorees and of American University. "Through American University, I was able to actually find my niche," she added.
Read more about this year's alumni awards recipients.