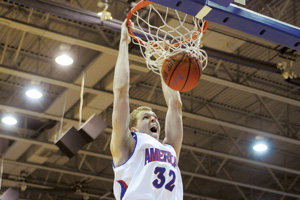 Might Major League hitters someday find out what Patriot League basketball players already know?
Stephen Lumpkins can bring it.

Lumpkins, AU's talented 6-foot-8-inch junior forward, was selected by the Pittsburgh Pirates in the 42nd round of the Major League Baseball draft in June.

Forget for the moment that AU doesn't field a baseball team, or that Lumpkins hasn't played serious hardball since his senior year of high school in Redwood City, Calif. College players generally aren't eligible to be drafted until after they've completed three years of school, but because AU doesn't have a baseball program, Lumpkins could be selected earlier.

"Last summer I played a little at home just messing around," Lumpkins says. "I decided I was going to take it more seriously. Somehow some scouts heard that I was playing baseball again."

Funny how scouts are able to sniff out even the most obscure prospect, especially if that prospect is a tall left-handed pitcher whose fastball tops out at 92 miles per hour. Lumpkins also throws a slider and change-up, so inevitably he draws comparisons to another tall, fire-throwing left-hander, Hall of Famer-to-be Randy Johnson.

Earlier this year Lumpkins threw for scouts in California and again in Washington. The Pirates liked what they saw and snagged him.

For now Lumpkins, a business major, plans to concentrate on academics and hoops. He's interested in marketing—and rebounding. Last season he started and averaged 13 points and 8 boards a game. But a future on the diamond is a real possibility.

"Right now I'm really enjoying going to college at American and playing college basketball," says Lumpkins. "Ideally I'd like to do both. I'd love to play pro baseball. But I'm looking forward to coming back next year and playing for American and winning another Patriot League Championship."