Alumni
Diane Gelburd, CAS/PhD '88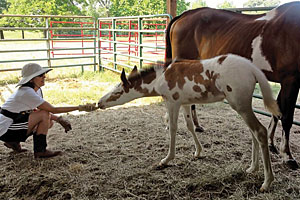 Growing up in the urban jungle surrounded by concrete and cabs, Diane Gelburd dreamt of a life filled with horses and hay.
"I thought people who lived on farms were the luckiest people in the world," laughs the Bronx native.
Years later, the city girl is living her country dream.
A senior executive in the United States Department of Agriculture's Natural Resources Conservation Service, Gelburd and her fiancé own 500 acres in northern Louisiana, where they raise equine, cattle, and timber. Gelburd, who commutes to the farm once a month from Washington, enjoys training and halter-breaking her beloved mules, including three-month-old Millie.
"I love working with the mules because they're like overgrown puppy dogs," she says of the animals, which are notoriously intelligent, curious, and even-tempered. "They get very attached to their trainers."
And while farm life has its challenges — including a recent infestation of army worms and extreme weather that's brought floods to some parts of Louisiana and drought to others — Gelburd relishes her time in the country.
"When I hear the cows mooing and the donkeys braying as I walk through the pastures, I think how fortunate I am to have the peace and serenity of the farm," she says of her brood, which includes 350 cows, 25 equine, and a rescued emu. "I miss it when I'm back in D.C."
Even when she's in the city, though, agriculture is always on her mind.
As special assistant to the chief for Strategic Natural Resources Initiatives, Gelburd works on agricultural and environmental policy issues such as food safety, biomass crop production, water quality, and conservation. Recently, she led the Greater Sage-Grouse Initiative, which protects the declining species' habitat while ensuring the sustainability of ranches and farms in the western United States. She's now turning her attention to the Farm Bill, which is up for reauthorization in 2012.
In her 31 years with USDA, Gelburd's worked in 11 states and on three continents. She says the work's been as varied as the locale.
"I've had opportunities from working with farmers and ranchers on the ground to leading thousands of employees and billions of dollars worth of conservation programs," she says.
"Public service is incredibly rewarding. The work is hard and the hours can be long, but it's so satisfying to know that I'm working to improve the well-being of our country."