Alumni
Charlie Lydecker, SPA/BA '85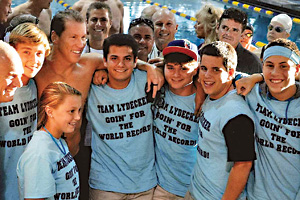 Charlie Lydecker says the turning point came at AU. Though he graduated from the School of Public Affairs more than 25 years ago, the latest impact AU made on Lydecker's life was this fall with members of the Eagles swim team. 
Lydecker, who was on campus for a Board of Trustees meeting, also was training as a member of three-time Olympic gold medalist Rowdy Gaines's swim team for the Rowdy Gaines Masters Classic in Orlando, Florida. He had been working out six days a week for a year after being invited by Gaines to join his team. Just weeks before they would set three age-group world records, Lydecker got in the pool to practice with the AU team.
"I was pounding away and pounding away and pounding away. Then I came to AU and started practicing relay starts," said Lydecker, "A lot has changed, including training regimens, since I was swimming at AU." Of his time swapping tips with the current AU swim team and coaches, he said, "All of a sudden, I was getting under 1:50 for the first time. That was the first time I realized I had a shot at a world record.
"I've always had a great respect for coaches. AU's Mark Davin is great, and he has very, very good assistant coaches," says Lydecker, who attended AU on a swimming scholarship. "They have an eye for detail and the ability to communicate correct techniques."
He recalls early morning practices as a student-athlete and says that's one thing that hasn't changed for AU's team or in his own regimen. A prominent businessman, Lydecker doesn't have a lot of time to spend in the water. He works out every morning from 5:15 to 7 a.m. and gets to bed by 10. "The hardest part is getting up in the morning," he laughs.
Part of what keeps him motivated is a substantial cheering squad, including his wife Chris, who also is an AU swimming alum, their three children, and many supportive friends. About 100 friends and colleagues rented a 40-foot RV and tailgated the night before his races, while his family invited their friends to travel in style. They rented a stretch limo for the event and the celebration dinner that followed.
Though he took home three world records in a weekend, Lydecker says, "I'm just a regular Joe. I'm working; I have a family. [People] think it's cool and that maybe they could do something like that too—and they probably could."
In the 4x200 relay, Lydecker swam his leg in a time of 1:47. His team combined to record a time of 8:03.40, breaking the previous old short-course world record of 8:16.30. In the 4x100 relay, Lydecker's squad recorded a 3:57.16 to overtake the previous mark of 4:05.67.