Business
Fruit Guy with a Conscience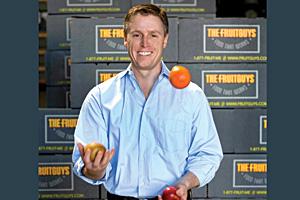 "A lot of the health disparities that people have now are because of lack of access to healthy fruits and vegetables," says Chris Mittelstaedt, Kogod/BSBA '91. He's trying to change that.
Mittelstaedt is founder, CEO, and chief banana of the San Francisco–based vending machine alternative, The Fruit Guys. The business, which Mittelstaedt launched during the heydays of the dot-com bubble, was first geared toward coders and techies whose waistlines expanded as they pumped caffeine to get through long shifts. Mittelstaedt found his niche replacing chocolate-covered espresso beans and Jolt with kumquats and avocados.
Now operating from four hubs nationally, the Fruit Guys offers subscriptions of locally-grown produce to clientele including high-end businesses, local plumbers, public schools, and commuters who trek home with their weeks' fruit, veggies, and recipes in cardboard, produce-hauling briefcases.
Good health is central, but the Fruit Guys' mission is broader. Mittelstaedt thinks back to his entrepreneurship class with Kogod professor Richard Linowes and repeats a grounding life and business tenet Linowes planted in his mind: "He asked, 'What are you doing that makes you a vital contributor?'" Mittelstaedt adds, "I've thought about that throughout the rest of my career. A lot."
Over time, Mittelstaedt and the Fruit Guys brand became deeply linked to the causes of small agriculture and nutrition. The terms advocacy and stewardship flow as freely from Mittelstaedt as discussions of the bottom line.
The Fruit Guys searches for suppliers among farmers living on less than 100 acres, believing those who make their homes there will "tend to take better care of the land and be willing to be good stewards." The company runs a farm stewardship program, installing beehives as pollination aids and bat boxes to control moth and mice populations naturally. They were part of a successful statewide petition of the California Department of Food and Agriculture to opt for sustainable methods in eradicating invasive moths. The Fruit Guys runs multiple community projects, including donations to Philadelphia's Philabundance, San Francisco's St. Anthony's Foundation, and the Chicago Food Depository. They are even working with Jamie Oliver's Food Revolution and donated a year's worth of produce to three low-income families living in Los Angeles' food deserts to highlight the issue of food access.
At a time when many similarly mission-driven nonprofits are now operating businesses for new funding streams, Mittelstaedt explains, "We've done it the other way around."