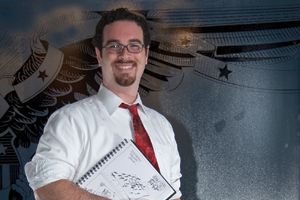 Esquire's "This Way In." "Back Story" in Newsweek. The New Yorker's "Cartoon Caption Contest."
The back page of a magazine is treasured real estate, which is why we chose this space as the new home for "World of Wonks," an original cartoon series.
Penned by Washington Examiner editorial cartoonist Nate Beeler, SOC/BA '02, exclusively for AU, the cartoons get to the heart of the university's new branding campaign, which Beeler himself accidentally inspired.
In 2008 we commissioned Beeler to draw a cover for American, and one of his submissions depicted men and women sitting on a telephone wire near the Washington Monument squawking "wonk." We ended up using a different Beeler classic, but it was his wonkish creation that helped spark the idea for AU's new campaign.
We thought it'd be fun if he took the idea and ran with it, so in the next few issues we'll be running more of Beeler's scenes from the "World of Wonks."
"The idea is that being a wonk is not something that is unique to a small number of people," he said. "A wonk is somebody who knows their field through and through and is passionate about it. This sort of brings the concept home in a humorous way.
"I brainstorm, doodle, come up with an idea here or there, and it all goes into a stew that's bubbling in your head. Then you figure out what works and what doesn't.
"Cartoons are a visual medium, so one of the things that work great are sight gags. You think of what would be funny to look at, and it's usually something that doesn't belong in a certain situation. I like to work in a pun, which some people say is the lowest form of humor. I strongly disagree."
As do we.