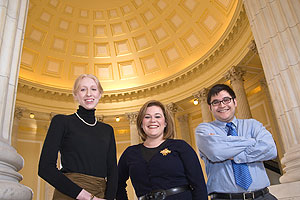 Bob Lehrman revels in the power of a well-crafted speech.
A speechwriter with more than 30 years experience writing for politicians, CEOs, and celebrities, Lehrman shares his enthusiasm for the skill by co-teaching a graduate course with Eric Schnure at the School of Communication.
The author of The Political Speechwriter's Companion: A Guide for Writers and Speakers recently invited five young AU alumni who are working in congressional offices, at the Republican National Committee, for a polling firm, and for an ambassador to talk with the class about landing jobs.
"When I left AU I went to the private sector, consulting for a year," says Sarah Dohl '07, a speechwriter for Rep. Lloyd Doggett, D-Texas. "I applied to hundreds of Hill jobs and couldn't even get a call back."
But her persistence paid off. When Dohl finally landed an interview with Sen. Maria Cantwell's office, she used a speech written for Lehrman's class to show she had the chops for the job.
Lehrman chose young alums for the panel because their age proximity to grad students could help students see possibilities for themselves.