Athletics
Eagles Gear Flies into Washington-area Stores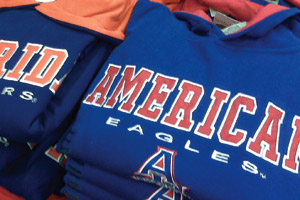 It's never been easier to outfit yourself like a true Eagle.
For the first time, AU Eagles hats, T-shirts, sweatshirts, and other gear are now on the racks at 15 Washington-area Finish Line stores. Merchandise also is available at Out of Left Field in Pentagon City and Union Station.
The campus bookstore remains the primary outlet for everything AU, but the recent deals with leading retail stores mean it's easier for Washington-area Eagles fans to pick up their favorite red, white, and blue apparel in the communities where they work and live.
"This allows us an avenue to market and expand the brand of the university while also giving alumni a fun way to show their school pride," said David Bierwirth, senior associate athletics director for development and special events.
Pride is what's made the launch of Blue Crew 2, the athletics department's new alumni fan club, such a success. Members get a T-shirt, discounts to home games, discounts at the bookstore, and an invitation to an exclusive annual Blue Crew 2 event.
Annual dues for this inaugural year are just $18.93—a rate set in honor of the university's charter date. Eagles fans can join by calling 202-885-3001, or logging on to http://www1.alumni.american.edu/register/index.cfm?action=reg&eventID=821.
There are now more ways than ever to show your AU pride, so get out there (you don't have to go too far!) and let the world know you're an Eagle.