Television & Film
Snap, Crackle, Pop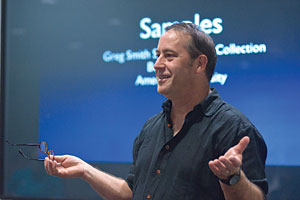 "It clicks and it grumbles and growls and pings. This is meant to be a living collection I'll keep contributing to," says Greg Smith of the 1,450 sound effects he donated to AU's Bender Library.
Throughout his 25-year career in film, Smith, SOC/MA, MFA '10, recorded the simple cha-ching of an antique cash register and the spectacular boom of a Space Shuttle launch—800 hours of sound effects. Now he's digitized and categorized each one for the Greg Smith Sound Effects Collection, which is free for all filmmakers to use.
"I was able to transport myself back to when I recorded these," says Smith, who owns Pros From Dover production company.
The sound engineer has provided recording or post-production sound on films including Star Wars: Revenge of the Sith; Jurassic Park; Indiana Jones and the Last Crusade; and IMAX productions like Blue Planet.
"I came from a large family, you had to make a lot of noise to get attention," he says. "But I discovered that you can learn more if you listen, because sound is all around us."