Achievements
AU among Nation's Top Military Friendly Schools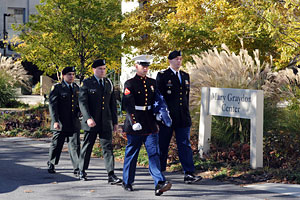 G.I. Jobs magazine announced this month that American University ranks among the top 20 percent of all colleges, universities, and trade schools nationwide as a Military Friendly School for 2012. The ranking, awarded to AU for the second straight year, is based upon stringent benchmarks that evaluate the policies and supports schools use to recruit and retain military and veteran students.
Topping the list of support for AU student veterans is the Yellow Ribbon Program, an annual financial aid program through which AU has voluntarily entered into an agreement with the Department of Veteran Affairs (VA) to fund tuition expenses exceeding the G.I. Bill benefit for qualifying post-9/11 veterans. This semester, 183 students have been certified through the VA, with more claims for certification coming in every day. With that certification and thanks to a simplified new G.I. Bill, post-9/11 veterans are eligible for $17,500 per year in tuition benefits. For those 62 students who qualified for AU's first-come-first-served Yellow Ribbon program, the G.I. Bill, VA, and AU combined have meant full tuition coverage.
Acquiring that significant financial aid does not happen automatically. Filing paperwork through the VA is a task that, to put it delicately, is arduous. There can be what feels like a firewall of paperwork that stands between service members and educational benefits. Here enters Valerie Verra, associate director, AU Central and VA certifying officer, an unexpected hero with administrative prowess.
Cochairing AU's Veterans Liaison Network with associate dean of students Michelle Espinoza, Verra's gift for cutting through red tape is well known. Staff Sgt. John Crown, history student and CAS senior, explained that he'd had some trouble negotiating his VA benefit for coverage of a class last semester that included a study trip to Japan. Verra was persistent and persuasive. "If Val hadn't taken care of that," Crown said, "I don't know what I would have done."
Cpl. Daniel Feeman, an SPA senior, noted that from President Kerwin on down, "AU is phenomenal in how it treats vets." Feeman has heard horror stories from veterans attending other universities and says that in addition to being a great school, compared with other universities "AU is better" for veteran's support.
The AU Veterans Liaison Network offers more than a staunch advocate on campus, it comprises a broad go-to-network of 15 individuals in different AU offices.
AU Vets works closely with the Network, and together the two groups have recently succeeded in making changes that will have a tangible impact on student veterans lives—like helping secure space for morning PT for ROTC students and ensuring that transfer students can self-identify as veterans on the AU common application.

Learn how AU's Veteran Community Makes for Military Friendly School.