On Campus
You Can't Put a Price on Game Show Glory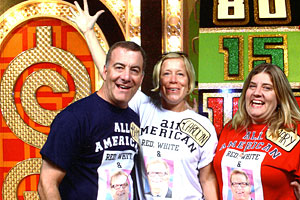 Anyone who's ever skipped school, played hooky from work, or been couch-bound with the flu has imagined the reality Bernie Schulz actually lived one day in August.
"Bernard Schulz, come on down, you're the next contestant on the Price is Right!"
With those 14 words AU's special assistant to the vice president in the Office of Campus Life leapt out of his seat and onto the stage of one of television's most iconic game shows.
"I have watched the Price is Right since I was a little kid," Schulz said. "I was living in California with my sister my freshman year of college. We went to the Price is Right with a friend of hers. The person next to me got selected. He was a retired guy from New Jersey. He played the punch-out game and won $20,000."
This time, Schulz's number came up.
Once again Schulz went to the studio with his sister, Mary, whom he was visiting on vacation. When the taping began, he was one of the first four contestants called.
"I was in disbelief," he said.
As the show unfolded, Schulz's bids missed the mark. It wasn't until the final item, a pool table, that his guess—$1,500—was a winner. He was $130 off, but his closest competitor, George, committed the cardinal Price is Right sin—his bid went over by 20 bucks.
Red-felted pool table in hand, he went on to play for a Ford Focus. His Money Game skills weren't sharp, so there would be no new car. But a shot at the Showcase Showdown remained.
Between big wheel spins of five cents and 90, which got him into the final, host Drew Carey asked him if he wanted to say hello to somebody.
"Hello to all my family in northern Virginia and all my colleagues at American University in Washington, D.C.!" Schulz enthusiastically shouted.
It was Bernard versus Matthew in the show's ultimate segment. Schulz bid $25,400 on a showcase that included a treadmill, electric motorcycle, and trip to Dubai.
Carey first revealed that Matthew's bid was $10,623 off (what was he thinking?). The spotlight shifted to Schulz.
"You bid $25,400. Actual retail price $26,154. You're on your way to Dubai! Congratulations Bernard. And electric motorcycle, and a treadmill. $27,916 prizes for Bernard today. Nice job."
Schulz was so excited he jumped on the treadmill and started running before dishing out hugs to Barker's Beauties (Drew's Dolls now?).
He had to sign a nondisclosure agreement, meaning he couldn't tell anyone of his good fortune until the show aired November 9.
As for his prizes, he's definitely keeping the trip and the treadmill. The pool table would be a bit too tight a squeeze in his condo.
Schulz took the 9th off, and like millions of others who found themselves at home last Wednesday morning, he flipped on his TV to the Price is Right.
"It was surreal," he said. "I was worried I was going to look like a total idiot. When you see yourself you're critical. I think that's just human nature. But it brought all the excitement back. I still cannot believe it. It was a fun way to end my vacation."
His next one's in Dubai.