AU Insiders
Jackson Gathers Alumni Support for New SIS Building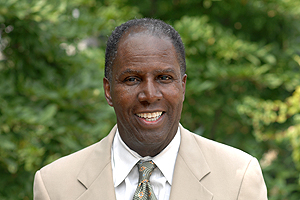 Morris Jackson is working to fill a hole in the ground.

The hole is the size of a longtime dream: the new building for the School of International Service (SIS). As director of development for SIS, Jackson is charged with finding donors who share the dream of building a state-of-the-art home for the nation's largest school of international affairs.

SIS graduates are loyal to the school, but they don't know Jackson when he calls them up. "I have to establish a relationship with a stranger," he notes. But the doctor of education has an affable manner that quickly sets people at ease.

He has also become an encyclopedia of AU knowledge, since alumni are full of questions about what's been happening at the school and which of their professors are still around.

A favorite question: "Is Dr. Said still there?" After all, every SIS student for the past 50 years has known Abdul Aziz Said, now the university's longest-serving faculty member.

It's important, Jackson says, to make sure that donors feel valued, whether they give $10 or $1,000. "Just because they only gave $10 or $100 doesn't meant they won't want to give more. But why should they if no one's talking to them?"

He travels extensively, from San Francisco to Minnesota to Florida, a recognition that SIS alumni aren't only located in Washington, D.C., or in posts abroad. On his trips, Jackson fills alumni in on the latest developments at their alma mater.

"It's a fun thing to do—to bring the university to them," he says.

Jackson has been at AU since 1992, when he came as director of educational programs in the Office of Continuing Education. He put down roots in the neighborhood when his son Marcus attended St. Anne's Academy, across the street from the Tenley campus, where Jackson long worked in the Office of Development.

The school is so close that around second grade, young Marcus asked his dad if he could see him from his window. "No," Jackson answered.

"Can you hear me?" he continued.

"No," said his father.

The boy's reaction: "Well, good."

Jackson did often hear and see his son in the classroom, though, since he'd walk across the street to volunteer. Marcus is now in high school and a nationally ranked table tennis champion, an interest he shares with his father.

When he's not raising money for SIS (or playing table tennis), Jackson, who has published extensively in the field of counseling, is active in social causes. He has served on boards that include the Juvenile Diabetes Research Foundation, Boys and Girls Club of America, and Friendship Heights Retirement Home.

Based at SIS for the past two years, he can't see the construction site for the new building from his office, but he can see it in his mind's eye. And in a few years, when he looks at the new building, Jackson will know he had a big hand in making it a reality.