Research
Students Follow Immigration Debate in Manassas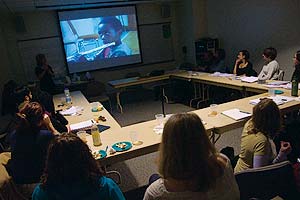 Working in the community can take many forms, but it doesn't often take students as far afield as Manassas, Va., an hour from AU's campus. 
The historic Civil War town has been a hotbed of immigration debate, with immigration crackdowns and anger and fear on both sides. This fall, two classes connected through two sets of student projects.
The two courses—Race, Ethnic and Community Reporting and Unseen and Unheard: Documentary Storytelling in the Other Washington—are the foundational courses of the Center for Community Voice, which bring together filmmakers and journalists in the School of Communication and anthropologists at the College of Arts and Sciences.

In Nina Shapiro-Perl's course, film and anthropology students create videos that tell the stories of nonprofits. This time, one group would be working with Unity in the Community, which does outreach against hate crimes and is a partner of the national nonprofit Not in Our Town.
In Angie Chuang's reporting course, students Jen Cooper and Trey Brooks also expressed an interest in getting to know the community of Manassas. 

"I was really worried it would be too far, and the students would say, 'No way,'" Chuang says. "The first time we went out there, we hit traffic, and it took us an hour and a half to get there. I said, 'I hope we haven't scared you off.' But we didn't. These students really came through."

In fact, students from both classes spent hours of their own time in the Washington suburb, getting to know activists and advocates on both sides of the debate.
Part of the fascination of the course was the way the different students—two journalism students working independently, and a team of students in the storytelling course—approached their subjects.
One of Chuang's students became intrigued by the way each side of the immigration debate used the Christian faith and Biblical passages as a motivator for their actions, but came to vastly differently conclusions about their moral obligations.

Another journalism student pursued the emotions being generated by the upcoming national census.

In Shapiro-Perl's class, students are charged with telling the stories of an advocacy organization through the voices of people it impacts. In Manassas, Jenny Grubbs, a first-year doctoral student in anthropology, and Charlene Shovic, a master's candidate in public anthropology, sought out people who had once felt suspicious of immigrants, but had come to feel differently—not an easy story to tell, but a potentially powerful one.
How did they find their subject? By going to a local showing of a documentary on hate crimes, and asking people to share their stories. That lead to a half-dozen interviews and a strong personal story.

"What to me is always the most fascinating part of documentary work is to try to capture stories of transformation—where people were one way, and because of working with others or an event in their backyard, their views change," said Shapiro-Perl. "When you can tell that kind of story, it touches people who might not ordinarily be touched."
In the end, the students succeeded—and wound up with different perspectives on a complex American suburb.

"The goal is to understand this community of Manassas better," Chuang said. "It's a place where a lot of battles over who are we as Americans have been fought. What access are we going to give them to the privileges and rights of being American? How does this one community in the middle of suburban Virginia play out this battle?"
Next semester, the two courses will share a time slot, allowing them to cooperate further, share speakers, and perhaps engage in more related projects as the Center for Community Voice develops its mission—and its own voice.