Business
Marketing Students Propose Metro Campaign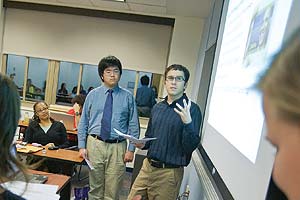 Red, yellow, orange, blue, green . . . one student even donned a hopeful purple. 
When Sonya Grier's marketing students stepped up to give a presentation on a campaign for Metro, some were dressed in colors that Washingtonians identify instantly with the subway lines. 
Even the top official from Boston's MBTA subway system who watched the presentation by webinar undoubtedly recognized the cheerful colors. So, of course, would the Metro officials who spoke at the class and also were sent the webinar.
Real-world projects that create links with the community are often a part of Grier's classes at the Kogod School of Business. This fall, students in Advertising and Integrated Marketing Communications worked to create campaigns to increase off-peak ridership on Metro and subtly address perceptions of safety after this summer's Red Line crash. They were the types of campaigns they'd create for a marketing agency, from research to budget to sample videos.
Early this fall, WMATA director of marketing Ronald Rydstrom and director of communication Sara Wilson spoke to the class, provided data, and laid out some challenges facing the Metro system. There were questions about whether riders felt safe in the wake of the crash, and other ongoing questions about such matters as raising ridership in off-peak hours.
Students found the deadly crash has not had a measurable long-term impact on ridership, and determined that concerns about safety could best be addressed subtly rather than head-on, as part of a campaign to boost ridership among college-aged students and young adults.
One group proposed discounts to popular night spots for riders who can prove they arrived by Metro. Another proposed a contest to create a video that could go viral.

The project allowed them to get a feel for working at a marketing agency and also to get a stronger sense of the community. Such projects are often hallmarks of Grier's classes, where previous students have looked at campus environmental practices and have examined obesity in a project with the D.C. Department of Health.
"I like them to do something that integrates them into the community, so they have an understanding of where they are," she says. "I like them to get out of the shell of campus."

Several students understood how unusual it can be to get such hands-on experience; they are spending the year at Kogod as part of the Abroad at AU program, and were appreciative of the opportunity.
"I feel like classes are better here, more practical," said Walter Leira, of El Salvador. "Guest speakers come to class, and that's really helpful."
"It's so different from Hong Kong," agreed Ivy Lai of Hong Kong. "There, students attend lecture, and it's just theory. This is more practical and very interactive."
Up in Boston, where MBTA marketing communication director Barbara Moulton watched the AU presentations, the students earned high marks. "Clearly, their collective grasp of the messaging strategy required to increase off-peak ridership is impressive—to say nothing of the creativity of the presentations, Moulton said in an e-mail. "Stellar!"