International
New Public Policy Analysis Program Underway in Haiti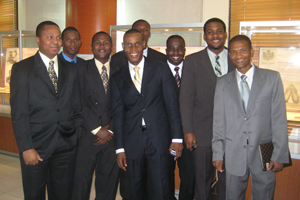 It may be winter break in Tenleytown, but in Port-au-Prince, American University is in session.
December marked a midpoint in the pilot Public Policy Analysis Program the School of Public Affairs is running in conjunction with Haiti's central bank.
The first course for the 20 or so professionals from the bank and other government agencies began in the summer, but earlier this month Dean William LeoGrande, Vice Provost Phyllis Peres, and the professors in the Public Administration Program who are teaching the classes went to the capital city for a ceremony to mark the program's launch.
"This is the first time we've done anything like this in-country," LeoGrande said. "We have programs providing training to mid-career government employees from other countries, but this is the first time we've delivered the course overseas. It's part of our mission to improve government services both at home and abroad.
"We are trying to have more of an international dimension to our work," he said. "We've historically been mostly focused in the United States in our public administration program, but the world is more interconnected, so it's important for us to do things with [an] international component."
This partnership was sparked by Professor Rene Aubourg, a Haitian native who once worked at the central bank.
"It's a good example of how social networks work," LeoGrande said. "Because Rene had worked with the bank, the governing board had confidence that a program he was involved in would fit their needs. Rene's relationship opened the door for us to sit down with the governing board and talk about what we do and how we envisioned the program."
Designed to run over the course of about a year in an intensive format, the program is the equivalent of about six classes. AU faculty members travel to Haiti to meet with the students for several days at the beginning and end of each course; at other times they work with the students online.
When the program ends in mid-2010, students will have a certificate that enables them to use some of those credits toward a master's degree.
"It's a basic public financial management curriculum," LeoGrande said. "If someone came to us to get a master's degree in public administration with a concentration in public financial management, these are the kinds of courses they would take. It's how you would budget and do accounting in the public sector, program evaluation and assessment, the whole financial side of running governments."
The students are selected by the Haitian government, and they take the course while working their full-time jobs. It can be a rigorous undertaking, but the students seem to have embraced the opportunity, LeoGrande said.
"I asked them what their experience was in the course," he said. "They see it as a chance to expand their skill set on the one hand, so they can do their job better, but also as an opportunity to gain skills and credentials that will advance them in their career. Exactly the sort of motives you see in mid-career professionals here who take our program."
At its conclusion, administrators will conduct a review of the program, make any needed curricula changes, and hopefully offer it again in Haiti — and possibly other locations.
"We'll do an assessment from the students themselves," LeoGrande said. "But if their job performance improves in ways that demonstrate that these skills are really valuable, that's the best indicator."