Television & Film
Russell Williams Returns to Oscarland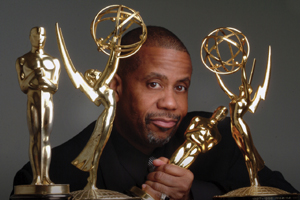 Updated March 2, 2011
The red carpet has changed.
Twenty years after becoming the first African American to win two Oscars, Russell Williams II, SOC/BA '74, returned to Hollywood for the 83rd Academy Awards to commemorate that historic occasion.
Now he's back in D.C., where he teaches film classes at American University.
"Sitting in the room [at the Oscar ceremony] for first time in 20 years, it really made me reflect on what an honor it is to not only be nominated but to win two times in a row," Williams said.
Williams won Oscars for his sound work on Glory and Dances with Wolves. Since 2002, he's been an artist in residence at American University's School of Communication.
As for the red carpet, it's still the magical place where stars promenade to be admired by throngs of fans and photographers. But depending on how brightly their stars shine, academy members walk a different path.
"Before, you could intermingle freely," Williams said. "Now it has three lanes."
VIPS and current nominees go to the left, putting them closest to the press and still photographers. The center lane is for left-laners who would rather not mingle. And the right lane, the one closest to fans, is reserved for garden variety academy members not up for an award this year.
One of the first people Williams saw on his walk down the red carpet was AU alum Clark Woods, SOC/BA '78, a film distribution consultant who formerly headed distribution at Paramount. He also ran into veteran sound people and producers who in the past have spoken to his class at AU.
As an academy member, Williams gets to vote on award winners. So how did his picks do?
"All the people I was rooting for didn't win," he said.
In addition to Glory and Dances with Wolves, Williams has also worked on many other films, including Field of Dreams. The District native has won two Emmy's and is a producer as well.
Williams has been no stranger to Hollywood since joining the School of Communication, where he runs SOC's Summer in L.A program.
Check out Williams's tweets about his 20th-anniversary return to the Academy Award ceremony.