International
Earthquake Impacts SPA Program in Haiti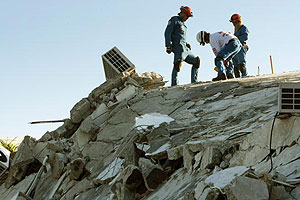 Less than a year after American University's School of Public Affairs started an innovative public policy partnership with Haiti's central bank, the earthquake in the Caribbean nation has crippled the program.
The facility where SPA faculty taught the courses is completely destroyed, said Robert Durant, chair of the Department of Public Policy and Administration. Some of the students, Haitian bureaucrats selected by the government, have been accounted for, but the well-being of the majority of them is unknown. In addition, several Haitian staff members have been severely injured, Durant said.
All classes in the program are on hold.
Designed to run over the course of about a year in an intensive format, the Public Policy Analysis Program is the equivalent of about six classes.
"It's a basic public financial management curriculum," SPA dean William LeoGrande said. "If someone came to us to get a master's degree in public administration with a concentration in public financial management, these are the kinds of courses they would take. It's how you would budget and do accounting in the public sector, program evaluation and assessment, the whole financial side of running governments."
AU faculty members traveled to Haiti to meet with the students, who attended the classes while working full time, for several days at the beginning and end of each course. At other times they worked with the students online. None, however, were in Haiti when the quake struck.
In December, LeoGrande joined Professor Rene Aubourg, a Haitian native, and other AU faculty in Port-au-Prince for a ceremony to mark the program's launch.
Just one month later, the country lies in tatters after the devastating Jan. 12 quake.
The Office of Campus Life is hosting a Web site about relief efforts for the victims of the disaster.