Business
IT Pros to Kogod Grad Students: Never Stop Networking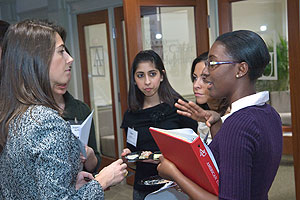 As they move from the classroom to the boardroom, Kogod's young businesswomen are learning from others who scaled the corporate ladder in heels.
On Jan. 26, Kogod Women in Business (KWIB), the newly reinstituted club for women MBA candidates, teamed up with Women in Technology (WIT) to host "Your Career: The First Five Years." During the intimate networking event, seasoned pros and rising stars from Unisys, AT&T, and IBM shared their secrets for landing the job and making a mark in the business world.
About 45 grad students turned out for what IT professor Jill Klein hopes is the first of many collaborations between Kogod and WIT, which boasts more than 1,000 female members through the Washington area.
"WIT's networks are extraordinarily deep and wide," said Kogod executive in residence Klein, who also sits on WIT's board. "The idea is to give our students as many opportunities as possible to interact with people working in the local marketplace. That's how you build contacts, and how you find out about jobs that never get posted."
This is the first time WIT has aligned itself with a university. KWIB president Thao Thompson says "this is our first annual event," which Thompson hopes "will continue as a long-term partnership."
"WIT members [have] their finger on the pulse of what's going on in the D.C. metro area," said Thompson, a part-time MBA student who works at the Food and Drug Administration. "Partnering with WIT will give Kogod grad students another avenue to obtain real-life business experience that enhances classroom learning."
The Jan. 26 event focused on four topics: making your mark and winning high-visibility assignments; presenting a professional image; networking and the importance of mentors; and setting boundaries and managing relationships. Speakers, who addressed students in intimate groups of 10 to 12, included WIT president Toni Townes-Whitley, vice president and managing partner, North America, Unisys Global Industries. Speaker Raluca Monet, Unisys operations analysis manager, was among several Kogod alumni in attendance.
Networking may have been new to many of the evening's attendees, but Klein noted "it's something you'll do for the rest of your life."
"It's an opportunity to learn, to find out what's going on in the marketplace. Today, maybe you're on top of your game and you can help someone else find a job. But that doesn't mean that a few years from now, you won't be the one searching for a job. You never know when you'll turn to those networks."