Business
Oetzel a Force Behind International Business Seminar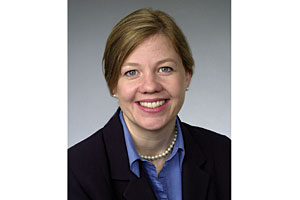 Jennifer Oetzel is intensely interested in the intersection of business and international economic development.
It's a field a growing number of her Kogod School of Business colleagues, including fellow international business professor Heather Elms, are studying in one capacity or another.
"We've been very excited over the last few years as Kogod has hired several professors across a variety of departments that are interested broadly in business and society," Oetzel said.
So last semester Oetzel and Elms debuted Global Business and Society, a new seminar series they created that's designed to bring academics from throughout American University—and other institutions—together to explore the subject.
"We wanted to start a research seminar series that would enable us to not only leverage our own internal resources, but we wanted to also build bridges to other schools and see what other people are doing," she said. "We want to build a strong research community around these issues."
The first of four spring events takes place this Friday, Feb. 19. Heather Berry of the University of Pennsylvania's Wharton School of Business will deliver a talk entitled "When Do Firms Divest Poorly Performing Operations?"
Others scheduled this semester are:
March 19 – Rafel Lucea, assistant professor at George Washington University
Apr. 23 – Sinziana Dorobantu, doctoral candidate at Duke University        

Apr. 30 – Jonathan Doh, Herbert G. Rammrath Endowed Chair in International Business at Villanova University
All the seminars are held at 2 p.m. in Kogod room 215 and are free and open to the public.
"We have seen a growing demand from students interested in learning about the issues of how business can positively contribute to society," Oetzel said. "People are interested in bridging the business and nonprofit sectors. We have a lot of other faculty who may not have this as their primary research domain, but they have it as a strong second domain, in IT, in finance, in other areas. They may be looking at it from different perspectives."
It's a fitting comment from a woman who took an unconventional path into the world of business academia.
Oetzel, who lived from age 10 through graduate school in Austin, Texas, has long been intrigued by international economic development issues. As an undergraduate at the University of Texas she studied in Spain for a semester, and later worked at a law firm in London. While earning her master's in urban planning and economic development at UT she landed an internship with USAID that changed her life.
"The project was designed to transfer technology from the U.S. to Tunisia by educating Tunisians in the U.S. in science and engineering," she said. "At the time I was hired to evaluate it, it was considered one of the biggest failures because only a little over half the students had gone home. I was to evaluate why people didn't go back.
"In my interviews with Tunisians in the U.S. and in Tunisia, they all said what we're most interested in is getting a job where we can get ahead on our merits and not based on who our cousin is," she said. "That experience had a dramatic impact on me because I realized the power of business. I saw that creating jobs and finding good and fair employment could make an incredible difference in people's lives."
Through the Global Business and Society seminar series, Oetzel is helping expand the body of knowledge with the continued hope of positively affecting people throughout the world.
"I want to get to know all the people on campus here at AU and elsewhere who are doing research in this area," she said. "I know there are a lot of people at SIS who are doing very interesting work. That's the kind of thing I'm really excited about. We're excited to have this group here in Kogod who are cutting across departments, and we want to continue to build on that."