International
Studying Human Security in the Field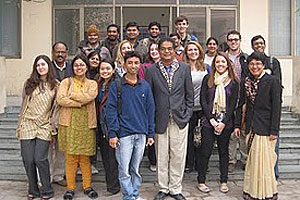 The lush Indian state of Orissa, with its coconut trees and fishing villages, is not known for weapons proliferation or terrorism, though it does have an insurgency. Its balmy location on the Bay of Bengal is not of global strategic importance, though it could be vulnerable to natural disasters and the rising waters of climate change.
Yet it was here, to India's second poorest state, that seven students traveled with their professor this winter to study human.
The intersession study trip was part of a spring semester class, India: Human Security in South Asia, and marks an expansion of the School of International Service's focus on India.
Does a state's security lie mainly in warding off external threats? That's the traditional focus of security studies, and one that came strongly to the fore in the years after Sept. 11.
SIS professor Amitav Acharya is a champion of a different approach, one that views threats, such as poverty and environmental degradation, as central to state security.
"Human security is security for people — freedom from fear and freedom from want," he says. "Instead of looking at great power rivalry, which is the traditional stuff of international relations, we want to look at the security of the people; at underdevelopment, poverty, environmental degradation, conflicts, and violence not just between states, but within states."
These daily threats to human security are part of the fabric of life in Orissa, which is why Acharya chose it as a study trip for his course.
"It's a real laboratory for studying human security," Acharya says of Orissa. "It's rural, with a lot of poverty, an insurgency, and at the same time, lots of development. It has some wonderful natural resources — two-thirds of the mining resources of Australia — yet it is still underdeveloped."
To bring students to Orissa for the class, he said, "is like being able to do military studies in a combat zone."