On Campus
Leading the Way to Excellence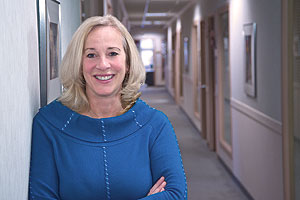 Dawn DePasquale wears a ring that says Fear Not.
She found the ring at a beachfront shop, but it could have been made to order for DePasquale, whose job as chief learning director for staff is to help turn a key goal of the strategic plan—for AU to become a place that encourages innovation and high performance—into an everyday reality.
"My mantra is 'No fear,' but the only way you can have no fear is if you have the tools, the wording, the processes, to be the person you want to be and the worker you need to be," says DePasquale.
She has come on board to oversee the training team in Human Resources and help create an environment of greater engagement, creativity, and out-of-the-box thinking. It's a new position, and one that DePasquale, who was already familiar with AU as a consultant, is approaching with enthusiasm.
With her arrival, there will be leadership courses on campus for the first time in 14 years. There will be opportunities to learn tools and techniques to grow as a leader and become certified in a range of techniques for facilitating innovation and creative problem solving.
The master trainer and consultant, who has a PhD in higher education administration and spent 16 years in career services, has already begun leading workshops where her approach has won high marks.
Fanta Aw was certified by DePasquale in a recent workshop, "Creative Problem Solving." "I left the program feeling extremely hopeful about ways we could tackle sometimes complex issues and challenges," says Aw, assistant vice president of campus life. "It provided me with new skill sets for examining issues as they come up.
"When I am in meetings, I'm now looking more specifically to figure out what is it we're trying to accomplish, and what are creative ways we can address that. What should the agenda be? Who needs to be at the table? Once they're there, how do we creatively engage them to be part of the solution? If they're part of the solution, it's more likely to succeed. I think that matters tremendously."
One of the earliest tasks De Pasquale took on was to assess the training that already occurs on campus.
"Training is happening around campus. It's not all HR-generated. Lots of people are doing lots of things, but we've never been assessing what's happening." So one thing she did as a first step was a quantitative and qualitative analysis of who's doing what across campus.
"The most startling thing we realized was that 75 percent of (campus training) is being run by departments. So one of the things that hit me is that the role for me and my team is not just to provide courses ourselves, though that's certainly our charge, but to find out who are our training partners across campus."
That way, training partners can be supported with their own trainings and information on effective methods of conveying information.
She's not talking about the one-on-one training that happens when an employee learns a new skill, but larger sessions that happen because of departmental needs, like the extensive training programs in Public Safety.
"A lot of people are experts in what they do, but don't have formal training as facilitators. My mantra is 'no fear leadership, no fear facilitation.' Once you have the skills and courage, you can go about your job the right way, which is with courage."
Aw found the workshops energizing, and felt they would help to make the notion of AU as a high-performance organization a reality. "One thing a high-performance organization must have at its core is strong leadership," she says. "I think Dawn has been very effective in a short period of time in shifting the discussion from management to leadership.
"Leaders are people who feel comfortable to empower the people they're working with, who themselves are learning to think outside the box and are willing to take calculated risks to problem-solve differently. For that, people have to feel like what they have to offer can be heard and really engaged. It all translates into retention of staff, robust programs for students, and a community that strives for excellence."
De Pasquale is a researcher as well as a practitioner; she has authored numerous articles, served on the editorial board of a national research journal, and delivered many keynote addresses, interactive workshops, motivational team rallies, and retreat sessions for corporations and nonprofit organizations.
Now she's bringing her formidable arsenal of skills to AU's staff.
"I'm so thrilled to be at AU," she says, "and to help to create an environment that can really change campus and arm people with the best tools and techniques. It's very exciting."