Business
Elms Trains Eye on Ethics of Private Security Companies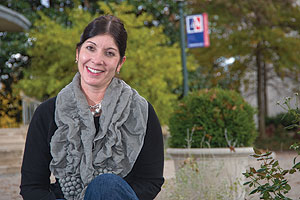 Is this valuable? Is it right?
For more than a decade, Kogod international business professor Heather Elms has negotiated the muddy, ethical waters that surround those questions.
Her research interest is corporate and stakeholder responsibility. Her latest target: private security companies (PSCs) that contract with government and corporate clients around the world.

The industry isn't new—the British engaged contract soldiers during the Revolutionary War. But the conflicts in Afghanistan and Iraq have given rise to a modern industry.

PSCs like Xe Services, the controversial private military company formerly known as Blackwater, are doing big business in the Middle East, dispatching tens of thousands of employees to secure military installations, personnel, and other resources. The industry's reach extends far beyond that conflict zone though; corporate clients, including Dow Jones darlings, have helped PSCs establish their value. Elms says value's not sufficient.
"To sustain themselves, PSCs need to develop moral legitimacy—the sense among stakeholders that they're doing the right thing—in addition to pragmatic legitimacy, which is simply associated with value," she explains.
But moral concerns about the industry abound. For example: Who should be allowed to provide the services and who should be allowed to use them?
Companies often hire former military personnel, "but that tells us little about how well the norms of professionalized militaries are instilled in these hires," Elms explains. "The companies hire globally—including from countries not known for the professionalism of their militaries. Are we comfortable with that?"
To gain moral legitimacy, Elms says that PSCs need to enable and reinforce professionalism among their employees. "But . . . this requires employees to do so as well. This is an example of the relationship between corporate and stakeholder responsibility—you can't have one without the other.
"Similarly, just as PSCs have a responsibility not to contract with illegitimate entities or for illegitimate purposes, legitimate consumers have a responsibility not to contract for . . . illegitimate purposes, or the unjust provision of force," she continues. "And financiers have a responsibility not to support companies that engage in illegitimate activities."
An article in the July 2009 issue of Business Ethics Quarterly has generated a host of new projects for Elms and her coauthor, Robert Phillips, professor of management at the University of Richmond, including an investigation into attempts at professionalization within the industry.

With the help of research assistant, Joshua Berg, SOC/MA '09, Elms is also reviewing media coverage and company press releases from the last 10 years and documenting changes in how the press portrays and companies frame private security work.