International
IMI Conference Sparks Dialogue, Strengthens Connections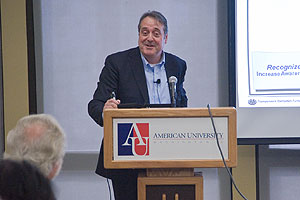 When a conference blossoms into one of the most influential and prominent programs in its field, you know you have a winner.
For 11 years, the Intercultural Management Institute's (IMI) annual event has been drawing international relations experts from around the world for two days of intense conversation and collaboration.
"Our goal has always been to bring together the top researchers and practitioners—people who don't typically get together—to share best practices, forge connections, and spark dialogue," said Karen Santiago, assistant director of IMI, which is housed in the School of International Service. "If we strengthen the field, we strengthen ourselves."
IMI hosted its 11th annual conference, March 11–12. More than 150 consultants, civil servants, researchers, and students turned out for the event, which featured keynote speakers Mona Eltahawy, an award-winning syndicated columnist on Arab and Muslim issues, and Fons Trompenaars, an author, consultant, and motivational speaker.
Participants from as far away as Japan and Germany chose from a record 35 breakout sessions on effective communication, negotiation, and leadership across cultures. Workshops focused on technology, health care, business, and the military—a hot topic in recent years.
According to Santiago, the conference has emerged as fertile training ground for those working with military personnel around cultural issues.
"Every solider, every seaman undergoes some kind of cultural training, but each program is different," explained Santiago. "We've become a platform for the military—a place where everyone can come together to learn what others are doing.
"So much time is spent reinventing the wheel. At the conference, people are sharing, not competing," she continued. "Our participants live and breathe their work, and it's a thrill that so much of their research and new ideas come through the conference."
Santiago, who holds a master's in international communication from SIS, first attended the IMI conference as a student six years ago. She's proud of how the event has matured, especially given IMI's small staff.
"Gary Weaver [IMI founder and executive director] always says there's 1,000 tiny feet under the conference that keep it running so smoothly," laughed Santiago, who was assisted by eight student workers and three volunteers. "I'm extremely proud of all the administrative work that goes into the conference. We're able to respond to everything from last-minute copies to special food requests to first aid; I know it doesn't seem glamorous, but it's the sort of thing you don't notice until you need it.
"We work very hard to put on a seamless conference and it's only getting better each year."