Environment
AU to Be Carbon Neutral by 2020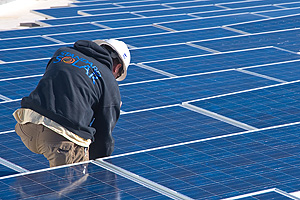 American University's plan for carbon neutrality is among the most ambitious in the country. According to sustainability director Chris O'Brien, AU will achieve the green goal by 2020.

"We already offset half of our emissions by buying renewable energy certificates in the same amount as our electricity, which puts us leaps and bounds ahead of our competitors," he said.
Released May 14, AU's plan comes two years after President Neil Kerwin signed the American College and University Presidents' Climate Commitment. The initiative began in 2006 when 12 presidents gathered at Arizona State University to commit to carbon neutrality and research around climate change. To date, there are 685 signatories.
The commitment requires institutions to inventory their greenhouse gas emissions, craft a plan for carbon neutrality, and set a target date. According to O'Brien, of the 200 colleges and universities that have submitted their plans thus far, many call for carbon neutrality by 2040 or 2050. "Other schools haven't dedicated the time and resources that AU has to achieving this goal," he said.
AU's plan focuses on green power and offsets, as the 84-acre urban campus doesn't afford the on-the-ground building capacity that rural institutions may have. Working within the parameters of available solutions, AU will employ these four strategies to achieve carbon neutrality:

Reduce consumption. The university plans to reduce electricity consumption by 1 percent annually; reduce transportation emissions; and eliminate emissions from paper, waste, and agricultural inputs.
Produce renewable energy, including solar and wind energy.
Buy green power for 100 percent of electricity consumption and renewable energy credits (RECs) for 100 percent of electricity. AU recently achieved the latter, purchasing wind-generated RECs that offset 100 percent of its annual electricity usage (53 million kilowatt hours).
Buy-develop offsets for travel and other unavoidable emissions.
The carbon neutrality plan is a dynamic document that will be updated every two years. Along with a sustainable purchasing plan and a zero-waste plan—both forthcoming in the next few the months—it's part of AU's "grand sustainability plan," according to O'Brien.
"As an institution of higher education in the nation's capital, it's incumbent upon us to lead climate change mitigation strategies," he said. "We're training the next generation of leaders, and it's critical that our students understand the problems and be a part of the solution."