Environment
SIS Students Take on the Future of Food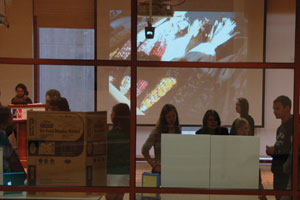 Can the humble peanut butter and jelly sandwich save the troubled food system? Shannon Curry, an international studies major in the School of International Service (SIS), thinks it can help.
On Oct. 18 she and other students in Professor Simon Nicholson's Political Ecology of Food and Agriculture class presented their views on global agribusiness and the long-term future of food.
Through the creative use of video, taste tests, games, and displays, the students tackled such issues as the prevalence of corn in the modern diet, whether organic food tastes better than conventional options, how farmers' markets interact with their local communities, and where Trader Joe's procures its goods.
SIS junior Laura Free, who organized the event, summarized the overall aim as "getting people more involved in what they eat, knowing where it comes from and what effects it has on the larger world."
Nicholson said the event challenged his students to find different and effective ways to present complex ideas. And it offered them the opportunity to talk to the wider campus community about their projects, which they will continue to expand and refine for the rest of the semester.
So what role does the PB&J play? Curry is using it as a fun way to convey the message that people can make simple changes in their diet—such as replacing that roast beef sandwich once a week with an easy vegetarian alternative—that will help mitigate the negative environmental impact of the meat industry. The only question is which peanut butter tastes better, organic or conventional.