Research
Former Real Estate Executive Puts Down Roots at AU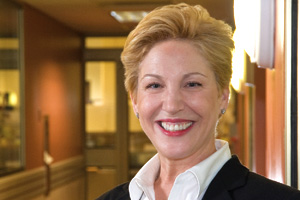 Anita Brown came to American University in April as a temporary employee. But after working with the newly formed Research and Grants Infrastructure (RGI) Task Force for one month, vice provost Rosemary Wander, impressed with Brown's smarts and savvy, asked her to stay.
Brown, who recently retired after 22 years with W.C. and A.N. Miller Companies, a Washington-based real estate firm, wasn't looking for a demanding, full-time gig. But, AU offered flexible hours and, as it happens, Brown lives a stone's throw from the university on New Mexico Avenue.
She accepted Wander's offer.
"Rosemary is 100 miles a minute," Brown says of the vice provost for graduate studies and research. "I learn something new each day, and I just love how my job is evolving."
As Wander's assistant, Brown works to create a culture of research at AU. She organizes workshops to help faculty write more competitive grant proposals and brings in funding officers to share tips and tricks for financing research. She assists grad students seeking external funding for their research and coordinates programs to help them write their dissertations and theses.
Brown also helps Wander carry out the recommendations issued in July by the RGI Task Force, including posting a list of externally funded projects on the Web, creating a research week, and increasing visibility around research through marketing and communication initiatives.
Brown says one of the great joys of her job is collaborating with the task force, which includes about 20 faculty, staff, and administrators from across campus.
"It's exciting to have this wealth of intellect in a room working as a team," she says. "There are always new and better ways to do things, and as long as people keep an open mind, you can accomplish some really cool things."
Before coming to AU, Brown was the chief corporate officer at Miller. Among her responsibilities, she worked to match the goals and initiatives of different units with Miller's strategic plan—perfect training, she says, for her position at AU.
"I come from the profit world, so it's exciting to apply my skills in a nonprofit setting," says the Maryland native. "So far, it's been just delightful. I hope to stay for quite a while."