Social Sciences
Restoring the White House to Its True Colors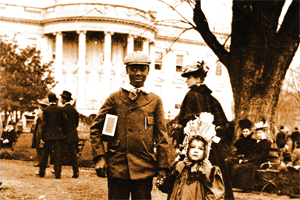 Barack Obama may be the first black president to occupy the White House, but he's hardly the first black person to work at 1600 Pennsylvania Avenue.
In his new book, The Black History of the White House, Clarence Lusane, political science professor in the School of International Service, traces the ways in which slavery, emancipation, racial violence, and civil rights have shaped the U.S. presidency. From slaves and servants to the first black Secret Service agent to work at the White House, Lusane gives voice to those whose stories have been excluded from the history books.
As the nation celebrates the life of Martin Luther King Jr. — whose words and works are chronicled in the book — Lusane sat down with American Today to discuss the fight for civil rights and racial equality, from Washington to Obama.

Q: Why is the White House such a powerful lens through which to examine civil rights?
Lusane: The White House is iconic, not only for people in the United States, but around the world. If there's any one building that's a symbol of power and democracy, it's the White House. 
Q: A lot of the stories in the book have been excluded from the history books. What excitement and responsibility comes with sharing them? 
Lusane: It was an extremely fun process. I unearthed these great narratives, and I felt driven to share them. Oney Judge was a young, black woman enslaved to George Washington who escaped. Her desire for freedom was so great that she fled, knowing that Washington could and eventually would send people to find her. You go from that experience to the Obamas in the White House as the first family. Most people in this country don't have a sense of that journey, because so many of those voices have been erased from history. 
Q: The book spans several centuries in its examination of civil rights. Where do you believe we are now, in terms of the struggle for racial equality? 
Lusane: I think we're in a very difficult moment. There are disparities that have been persistent for generations, and although the civil rights movement made great strides — economically, politically, socially — some people remain marginalized. We still have a major issue relative to the criminal justice system. For 1 million people, over half of whom are black and Latino, incarceration isn't an interlude in their lives, but rather, something that defines their whole lives. Their development is truncated because they're spending a critical period of their lives in prison and no one wants to address that. That's a problem. 
Q: In what ways did your experience during the civil rights movement shape your ambitions as a young adult?
Lusane: I was very fortunate because Detroit was a cauldron of all sorts of activism — anti-war, civil rights — and I was young enough to be around it, but not old enough to be lost in it. It was a very defining time in terms of thinking beyond my neighborhood and thinking about social justice and social change. The Detroit race riots in 1967 also had a very direct impact on my family, as my mother and sister were shot on the first night of the uprising. They survived, but with lingering health issues. That had a traumatizing impact on me, but it also propelled me to be more socially conscious. As a result of the riots (in 1967 and 1968, following King's assassination), many of us young people were brought into community organizing, which started me on a path of lifetime commitment to fighting injustice and working for equality for all people. My desire to serve the community has shaped much of my career, including my work as a scholar.

On January 17, more than 250 AU volunteers will fan out to 10 sites across Washington as part of the annual Martin Luther King Jr. Day of Service. The event, which marks the 25th anniversary of the federal MLK holiday, brings together volunteers to fulfill the civil rights leader's vision of a "beloved community" united through service.