Research
At Library New Faculty Strengthen Research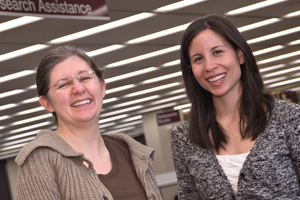 For metadata librarian Alayne Mundt, above left, the realization that she wanted to be a librarian came not in a classroom but while teaching English in Nepal. Working there as a Peace Corps volunteer, she saw that her desire to be an educator lay not in teaching but in books.
Mundt's colleague Robin Chin Roemer, above right, who started working at the AU Library in December, took a less exotic path to her new role as AU's first library faculty position devoted to supporting research in the School in Communication. But like Mundt, she was attracted to the library's mission of education and research.
"There were so many things about this position that I found initially attractive—including the opportunity to join the American University community (which has a remarkable reputation for social awareness and student activism)," Roemer noted. "That said, probably the most exciting feature of the job for me was the opportunity to work with SOC and its three interdisciplinary divisions."
"This position was added largely in response to the growing needs of the SOC community, but also partly due to the AU Library's interest in investigating a new, school-based model of library liaison work," Roemer said.
Before coming to AU, Roemer worked in Seattle at the University of Washington Information School.
Alayne Mundt had been working at the AU Library since January 2009 as Cataloging Services coordinator before her promotion to library faculty status as metadata librarian. Part of her focus will be repurposing staff positions to deal with assets such as e-journals and e-books.
Electronic cataloging is infinitely more complex than the old card catalog days, and a library's assets are no longer just books but a whole range of electronic publications and databases as well. Behind the scenes, books must be accurately cataloged before being shelved.
Mundt is also helping to catalog other libraries around campus. There are several partner collections, including those at the GLBTA Center, the Women's Resource Center, the Career Center, and the Visual Resources Center, Mundt noted.
"We're partnering with them to catalog their collections and make them more widely accessible to students and the public," she said. "It's a project [that] extends the walls of the library."
Before coming to AU, Mundt was an associate editor at the Library of Congress for ProQuest.