Communications
No Snow Days in Communication Professor's Classroom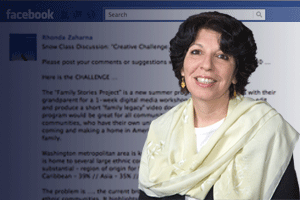 Wednesday's snow storm may have stranded the president in traffic and left the D.C. mayor in the dark, but it didn't stop School of Communication professor Rhonda Zaharna.

After American University cancelled evening classes, Zaharna invited her international public relations students to meet in a virtual classroom — on Facebook. Using tips and tricks she learned during the 22nd annual Ann Ferren Teaching Conference, January 7, Zaharna presented her 23 students with a challenge: redesign a brochure for SOC summer camp so it appeals more to ethnic communities in the Washington area.

Students — including one who was stuck on Metro and another stranded in traffic — posted their proposals in real time and critiqued their classmates' ideas. Despite being separated by several miles and six inches of slush, the online assignment sparked a surprisingly lively exchange, which continued long after the snow began to melt.

"One thing I took from the [Ann Ferren] workshop was that, if you want to fish, you have to go where the fish are — and they're on Facebook," said Zaharna, a professor of intercultural and international strategic communication, who also teaches in the School of International Service. "So, I jumped right in the pond. I created a Facebook for the class and the students have been carrying on a dialogue ever since."

The evening wasn't without its hiccups, however.

It took Zaharna, who's pretty new to social media, a few minutes to master the "comment" function on Facebook.

"The students were posting, and I thought I was offering all these great comments, but nothing was showing up," she laughed. "So, they're carrying on this conversation and I think I'm participating, but I wasn't hitting the return key. Once I figured that out, I was on a roll.

"I learned a lot, and I think whenever a professor can learn from her students, there's a chance the students will pick something up, too."
Read professor Zaharna's guest blog post about her Facebook class on washingtonpost.com. Facebook posted the blog entry as their "story of the week," where it's been recommended 11,619 times and garnered 9,381 "likes" and 1,270 comments as of February 2.