International
Egyptian Experts Weigh In: What If Islamists Win?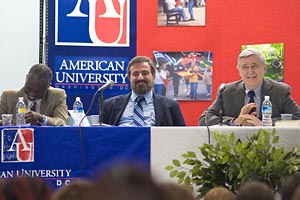 Washington Semester students aren't simply watching the uprising in Egypt unfold on CNN. They're interacting with politicos and academics, whose rich experience and expertise sheds light on the region in a way cable news can't.

"Only in Washington can students learn from think tank wonks, government officials, and community experts, whose work impacts decision making in D.C. — and around the world," said Mohamed Nimer, who leads Washington Semester's Islam and World Affairs seminar. "Our students have incredible access."

On February 23, Nimer hosted a panel of experts with deep ties to the Middle East and North Africa, posing the provocative question: What if Islamists win?

Among the speakers was Ezekiel Lol Gatkuouth, head of the government of South Sudan mission to the United States. Gatkuouth addressed the students on the heels of an independence referendum, in which southern Sudanese voted for separation from Sudan. South Sudan will become an independent nation on July 9.

Gatkuouth offered lessons from Sudan in the wake of uprisings in the Middle East and North Africa, which may bring Islamists to power in Egypt and other countries. Islamists in Sudan led a coup in 1989 but they soon split; one faction led the north in the conflict with the south.

"If you are not separating religion from the state, you will have a problem. To define a country like that, you will have a rebellion . . . [we] have been marginalized and underdeveloped for years," he said.

"If extremists are the ones running the state, then I have no faith in that—because I've lived through it," Gatkuouth continued.

Fellow panelist, Ambassador David Newton, offered a different perspective.

"No Arab country is completely secular . . . the issue is how Islamic these countries are or will be," said Newton, a scholar at Washington's Middle East Institute, who spent 36 years in the U.S. Foreign Service.

Newton, who lived for 21 years in five Middle Eastern countries, said the real issue now is good governance. The United States needs to set aside its fears, he said, and support democracy in places like Egypt.

"We do have to be on the right side of history by supporting democracy, human rights, and clean government," he said. "We must recognize a certain amount of paranoia and prejudice in the U.S. towards Islam" and, ultimately, "we should be in favor of our own principles."

Other speakers at the February 23 event included Louay Safi of the Center for Muslim-Christian Understanding at Georgetown University and Sulayman Nyang, African Studies professor at Howard University.