Alumni
Senior Gift Supports Faculty-Designed Wind Turbine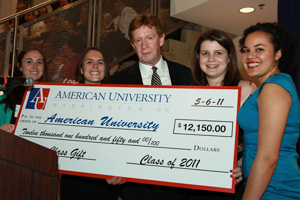 This year's graduates left their mark on AU — a passionate class that was committed to academic excellence. As they depart, 2011's senior class has invested in a gift that will create an ever-smaller imprint: a shrinking carbon footprint for their alma mater.
"Clean energy has been a lot of what AU is trying to do, and we figured it would be a much bigger impact on the university and the community over all," said senior class president Amanda Krause of the class decision to fund the turbine.
The $13,000 raised by the class will support a new vertical axis wind turbine, to be placed on the top level of the Sports Center Garage, which will provide enough electricity to power the Tavern. The turbine was designed by SIS professor Terrence Sankar.
Prior to commencement on Friday, May 6, at the Toast to Graduates, a check for $12,150 was presented to President Neil Kerwin; funds raised in an evening event the night prior brought the total to $13,000. Approximately 1,000 individuals, including hundreds of students, contributed to the gift, which was raised through a range of fund raisers — from cupcake and wing sales to social events like this year's senior semi-formal.
Abbey Silberman Fagin, assistant vice president of development, was struck by the class's enthusiastic contribution to AU's sustainability initiative. With a year's fund-raising efforts, the class of 2011's gift is a permanent note of appreciation that leaves AU cleaner and greener for future generations.