Arts
Passion for Acting Leads Adams to 'Venice'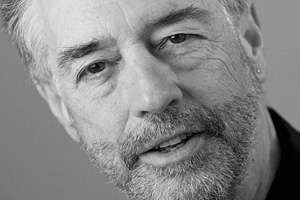 To act or not to act?
Seven years ago Gordon Adams asked himself that question, though in his gut he already knew the answer.
"I said to myself, I so love doing theatre," the American University School of International Service professor said. "There's a reason they call it a play. It's like high-wire acrobatics without a net. You must be totally in the moment, be revealing, be vulnerable. On stage you get one shot, if it doesn't work, it doesn't work. There is something very challenging and very exciting about doing that."
Adams embarks on the latest chapter of the second act of his stage career this month and next when he performs in the Shakespeare Theatre Company's production of The Merchant of Venice. This rendition is set in the 1920s on the lower east side of Manhattan. 
Adams plays a coffee shop manager (and also is the understudy for the Duke of Venice).
Performing Shakespeare is "probably for any English language actor the greatest challenge they can deal with," he said. "He's the greatest dramatist in the English language, and you have to try to be totally true to the words while being recognizable to a modern audience. The vocal and physical skills are classical and therefore very demanding."
The son of a speech and drama professor, Adams was first "thrown on stage" in Chico, California, at the age of nine. He took an immediate liking to the craft, landing his first lead at 16, playing Petruchio in The Taming of the Shrew. He continued to act until he turned 30 and finished his PhD at Columbia University.
"I decided I better become a serious social scientist," said Adams, who did just that. For the next three-plus decades he studied and taught national security and foreign policy budgeting, and from February 1993 to December 1997 he served as the senior White House official for national security and foreign policy budgets.
His role on the SIS faculty keeps him busy, but seven years ago Adams decided it was time to refresh his passion. He has been taking classes at Washington's Studio Theatre Acting Conservatory and performing in community and professional plays including A Bad Friend, The Mousetrap, and Angel Street.
"It gives me an opportunity to exercise my right brain," Adams said of acting. "It's creative work. Social science and international affairs and policy are very logical and rational. There's not much of it that is artistic, creative, spontaneous."
Adams considers himself a superior actor now than in his previous stint, thanks to better schooling and navigating his way through life.
"As an actor you draw on what you've experienced," he said. "The memory bank you plug into [for] your senses, actions, and feelings on stage is the memory bank you have lived. There's a conscious transition that goes on — it's not like playing pretend."
Admittedly well past the point of shaping a professional career in the theatre, Adams nonetheless continues to pursue perfection on stage.
"Acting strips one bare," he said. "What acting really is is being private in public. It's something I love doing, in some ways as much as I love teaching or being a policy wonk. There's a tremendous sense of thrill and discovery that goes with it."