On Campus
Alum Comes to Hillel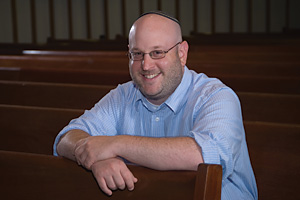 For Jason Benkendorf, the move to AU Hillel's executive director's office is, in many ways, like coming home.
The SPA '04 grad, once president of AU Students for Israel (AUSFI) and cofounder of AU's Interfaith Council, spent his college years deeply involved in Jewish life on campus. He participated in Hillel. He spent a semester abroad at Hebrew University. He thought he would eventually work in politics and volunteer within the Jewish community in his free time.
"It was during my time at AU that I found I still loved politics, but the work I was doing with Hillel and as an intern with other Jewish organizations around the city was most rewarding." He decided to make working in the Jewish community his career path and volunteer for political campaigns on the side. "I flipped the two."
After graduation, the political science major and Jewish studies minor nabbed a plum job as senior officer of public and academic affairs at the Embassy of Israel. He then spent five years at the local nonprofit The Curriculum Initiative (TCI), bringing Jewish cultural and identity curriculum to area private high schools. When he completed his MBA in organizational development at Johns Hopkins University this spring, it seemed kismet that the AU Hillel position had opened.
"It just seemed like a great fit. To practice the skills I'd developed at my old job and at graduate school, on behalf of an organization that I really love, in a place that's home to me." He added, "It doesn't get better than that."
Student Jonathan Lipton, SPA '14, Hillel intern and AUSFI vice president, explained, "As an AU alum, Jason understands the needs of the Jewish community at AU." According to Lipton, Benkendorf has implemented a strong set of welcome week programs, and strengthened communications and organizational systems at Hillel.
"Hillel at its best doesn't operate in a vacuum," explained Benkendorf.
Deeply connected to its Jewish roots, Hillel, Benkendorf explained, has a broader context. "Every person has a wide variety of identities. Jewish students are gay or straight. They're also Democrats or Republicans. They're also coming from different kinds of families." Hillel is there for students as they explore the richness of who they are.
Benkendorf's broader goal for Hillel is driven by a student priority on social justice efforts. Hillel is and will evermore continue becoming a vehicle for activism stemming from Jewish identity through direct service and philanthropy.
Benkendorf has big plans. The new executive director says AU Hillel has considerable potential, and he looks forward to striving to reach it. "I've never been bothered by hard work, if it's for a good purpose and good cause—especially when I get to do that work alongside such wonderful people. It's work, but it's a pleasure."