Journalism
'Today Show' Features 'The Secret Lives of Wives'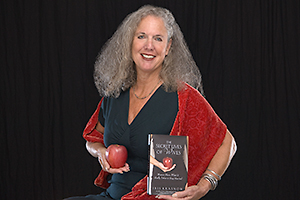 The Secret Lives of Wives is a window into the common relationship ailments that can kill a marriage. The latest from best-selling author and AU professor Iris Krasnow moreover reveals the secret passions that help many women stick it out, through sickness and health, boredom and frustration, and well into silver and golden anniversaries.
"This is how you stay married. You fill yourself," Krasnow revealed.
After over 200 interviews with women winding through the second and third decades of marriage, Krasnow taps into a running theme that gives women a chance for happy lives within even the most ordinary or mediocre marriages — and as she divulges their secrets, Krasnow and her book are gaining wide-ranging media attention. From appearances on the Today Show, CBS Early Show and an upcoming segment on Weekend Today, to a radio interview on the Gayle King Show, to Secret Lives being named one of "10 Books You Must Read" by O magazine and excerpted in Ladies' Home Journal, Krasnow's secret is out.
"It's not all candlelight dinners," said Krasnow. "It's a partnership."
Krasnow is a staunch proponent of marriage. Unless a woman finds herself in an emotionally absent or abusive marriage, Krasnow believes, it is worth it to stay. Divorce is costly, both emotionally and financially, for an entire family. Imagine taking turns attending grandchildren's birthday parties because you don't want to run into your ex and his twenty-something "bimbo" wife. On the other hand, marriage is tough, and as women stay, it can become tedious.
"But I don't meet a lot of people who unravel a 30-year marriage and find bliss. Maybe they're out there, but I haven't met them." She added, "The grass is not greener on the other side. You're trading one set of troubles for another."
Having spent two years researching how real women make long-lasting marriages work, she found that seeking that greener grass — that thrill through a departure from marriage — was unnecessary, so long as veteran wives found ways to fulfill themselves, independently as women, not just wives and mothers.
Their techniques ranged from taking separate vacations, rediscovering childhood interests or kindling new ones, to one 68-year-old St. Louis woman who steals time in the backseat of her college boyfriend's car for "petting sessions," never entirely consummating the affair. She has no plans to end her forty-five year marriage.
Krasnow's book is one without moral prescription; it's a journalistic effort. Her assessment: staking claim to space for themselves is what kept these women's marriages together. "Death in a marriage is when the partners stop growing."

A Useful Secret for the Me Generation
Krasnow's book is a study of boomer women. Like all five of her books, the central thread evolved from Krasnow's own life experience. "What I am living, my challenges, my jobs, my struggles, are what a lot of women are living."
She is part of a generation that came of age in the '60s, when traditional norms and dictums cracked open. Divorce was no longer the D-Word. Swinging and open marriages were accepted in some circles. At the same time that it became common to admit, "I want to be me. I want to find myself," divorce rocked half of all U.S. marriages.
More recently, the American divorce rate has dropped to 43 percent. People are marrying later. Interestingly, according to a Time/Pew poll, 44 percent of Americans under 30 believe marriage is heading for extinction, but 95 percent of that same age group still says they want to get married some day.
Pairing her journalistic research with time on the faculty of American University, Krasnow has found through interviews with boomers that "the reality of divorce has been very startling for this generation." At the same time, she learns in her students' writing, that for many, the most life-defining moment they've experienced is their parents' later life divorce. Students often write how their parents got divorced once the nest was empty, and how, as young adults beginning the phase of their lives when they are looking for a life partner, they feel the emotional damage is somehow worse than if the divorce had happened in their early childhoods.

Relationship WONK
AU has been fertile ground for Krasnow's work. "This university has been my incubator and my support system to create. All these books have been written right here, while I've worked here." Having begun her career as writer for United Press International, Krasnow models to her students what it means to be a working journalist. It means being a good listener, getting out into the field. She shares lessons as she interviews, compiles, writes, and promotes her work. "I try to be a vein-throbbing example every day that journalism is not dying."
Krasnow is a journalist with an expertise in relationships, from her first book, Surrendering to Motherhood, to Secret Lives, she's been an observer of the human condition. "I happen to write about things we all have in common."
Krasnow sees the relevance of her study everywhere. "If you're Mick Jagger or Barack Obama, or the cab driver you see on the street in Adams Morgan, or the person who collects your garbage, at the heart of all of us, it's the great equalizer — human relationships."
Krasnow sees light ahead for boomer women. "Maybe we've learned over decades that there's something nice about coming home to the same schlumpy person and going to your grandchildren's birthday parties together." The secret is ensuring for your own happiness along the way.
Iris Krasnow will speak about her book at Politics and Prose, 5015 Connecticut Avenue, N.W., on Wednesday, October 12, at 7 p.m.