Liberal Arts
Initiative for Russian Culture Event Draws Hundreds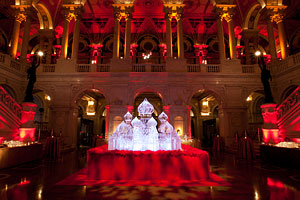 It was a night that featured Russia's top jazz pianist Igor Bril, Russian cinematic hit We Are Jazzmen, cocktails, dessert, and a 20,000 pound ice sculpture of a Russian Orthodox church. The point of departure for the evening — and the College of Arts and Science's new Initiative for Russian Culture (IRC) for which it served as an inaugural event — was, as American University history professor and IRC associate director Anton Fedyashin puts it, "the simple fact that Russia is a cultural super power."
As Bril's notes reverberated through the Library of Congress's Member's Room to an enthusiastic audience, it was clear that cultural exchange will thrive through the IRC. The gala drew 200 students from consortium universities and 350 guests including representatives from the State Department, Congress, former ambassadors, and other field specialists.
Russian ambassador Kislyak spoke of the embassy's interest in the IRC and said, "We are living in much better relations now than we were only two years ago," and expressed his desire to give the students "more chances to learn about life in each other's countries; to learn what we are and, as I always underline, to learn what we are not — that is very important."

"It is this engagement between the two cultures, which share a remarkable history long preceding the Cold War, that is the initiative's greatest attraction for me," said CAS history student Ryan Hunter '13, who also said he and his friends thought the evening "was the singular, most memorable event in our time as university students."
CAS Russian area studies major Chauna Gaona '13, who had the opportunity to meet Kislyak, looks forward to IRC's future development. "If this event was any indication of the exciting things in store for the Initiative, I can't wait."

Cultural Exchange in the Making
IRC is funded through a generous donation by Washington philanthropist and the IRC's advisory committee chair, Susan Lehrman. Almost three years ago, Lehrman met Kislyak when she asked him to host the Opera Ball for the Washington National Opera. "It was during that time that the ambassador and I discussed his vision of enhancing greater cultural relations between Russians and Americans, particularly among younger generations," said Lehrman.
Together Lehrman and Kislyak spent about a year and a half in discussions concerning the initiative. The pair approached AU president Neil Kerwin and CAS dean Peter Starr with their plans, to which the president and dean responded enthusiastically.

Said Lehrman, "It has been a privilege to work with the ambassador and American University to help make this vision a reality."
At the inaugural event, IRC director Eric Lohr noted, "Susan's generous gift comes at a time of crisis in Russian studies in the United States." Title VI, the government program that had been the mainstay of support for Russian studies in the United States was cut across the board by 40 percent in FY 2011. It appears the funding will be frozen at this new lower level indefinitely.
The result has been nationwide cutbacks in Russian studies. Frequently, government and private funders are adding the stipulation that funding for research and educational programs be policy relevant. "In other words, they have cut out funding for the study and teaching of Russian culture." Said Lohr, thanks to Lehrman's support, AU has the chance to counter these national trends.
IRC's reach is a means for bringing Russian culture to a broad audience of learners. Starr explained, "What's remarkable about the IRC for me is the way it creates a community of students, from colleges and universities across the District and beyond, who are passionate (or perhaps simply curious) about Russian culture. And, in time, that community will be expanded to include Russian students as well, who are just as curious about our culture as we are of theirs."
The IRC's relationship with the embassy also marks it as unique. Fedyashin applauded the ambassador's efforts, saying, "To my knowledge, this kind of engagement with an American university and this kind of long-term program or initiative is unprecedented in diplomatic history in the U.S. No other embassy and no other ambassador have made such an effort to reach out to American students and promote the culture of his country."

The Future for IRC
Russian art forms are drawn, as Fedyashin put it, "just as much on the palaces and aristocratic salons as on the village huts and peasant folklore," and in just its inaugural year, the IRC will support a similarly sweeping range of cultural events and educational opportunities including: the crescendo of the opera house, the pounding rhythms of jazz, sounds of the balalaikas, Russian Embassy–hosted film events open to consortium students, theatre productions, literature, academic courses, and an exchange with students and faculty from St. Petersburg.
Theatre professor Gail Humphries Mardirosian was delighted to be part of the launch, calling the evening "just stunning" and "an amazing umbrella for things we've been doing all along."
While the IRC offers formalized support for cultural events and learning on campus, in many ways it represents streamlining and growth of existing programs. The university's exploration of Russian culture has been long lasting. For instance, in 1989 AU hosted a Moscow theatre company which performed Hamlet in Russian, and since 2004, through Project ARTS (American Russian Theatre Exchange) has facilitated cross-cultural dialogue between theatre students from AU and the St. Petersburg Arts Conservancy.
Throughout the week of October 10, Project ARTS, AU students hosted Russian performers from St. Petersburg for a week of workshops, performances, and tours. For the 2012 spring break, AU will tour its all-female cast of Talking With to St. Petersburg. As Humphries Mardirosian notes, "In the arts, we really do speak the universal language." In collaboration, American and Russian actors are able to communicate and discuss their lives as artists.
Also, in conjunction with Lohr's Russian Politics and Film class, and in coordination with IRC events, students from AU and all Washington consortium schools will be invited to view four films this fall, hosted by the ambassador at the Russian Embassy. This spring, IRC will host another quartet of films touching on the jazz subculture within the Soviet Union. In coordination with IRC, for Fedyashin's course, Dostoyevsky's Russia, students will visit Moscow and St. Petersburg this summer to walk the places the great author lived and wrote, and experience the settings that shaped his characters. Next semester's Cold War and the Spy Novel will coordinate with IRC in a symposium exploring Cold War stereotypes.
As Professor Lohr surmised, the IRC "allows us to ensure that the great contributions of Russian literature, film, and the arts will be a part of the broad liberal arts education of our students — something that can no longer be taken for granted in higher education in the U.S."