Business
Making Kogod Stand Out from the Crowd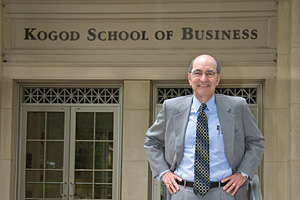 Michael Ginzberg joined American University as dean of the Kogod School of Business on July 1.
Before taking the helm at Kogod, he led the Sy Syms School of Business at Yeshiva University and the Alfred Lerner College of Business and Economics at the University of Delaware. Ginzberg also served as associate dean at the Weatherhead School of Management at Case Western Reserve University, and spent a year as a pro bono special consultant to the president of Tulane University in the wake of Hurricane Katrina.

What attracted you to AU and Kogod?
What I saw when I looked at Kogod was a business school that was in good shape but had a real opportunity to be even better and to move to a higher level.
[Former dean] Dick Durand did a good job of putting all the pieces in place, so we have a very strong faculty, good students, great staff, nice facilities, and good programs, but what we haven't done is woven it all together into a coherent picture that we can project to the rest of the world. Now we have to ask ourselves: how do we differentiate ourselves from the other 2,500 business schools in America, and, more importantly, from three Georges, a John, and a Maryland in the local area?

What differentiates Kogod?
Right now we're working on the strategic visioning process, and it's pretty clear that we're going to have a theme that draws on Kogod's strengths. We have great strength in a number of areas, including international business, finance, and accounting. Much of the research that faculty does has a public policy implication to it — it's where business meets the rest of society. I want to draw on that and assets across the university and assets in the city that I don't think we've done enough with. Individual faculty have relationships with government agencies, but we don't necessarily have the institutional relationships from which we can create a unique business education experience for people who come here.

What are your goals for Kogod?
We need to raise our visibility in the city and raise the perception of our quality among my peers in other business schools across the country and around the world. That's going to translate into increased rankings and, hopefully, alumni and friend support, all of which will help us build an even better business school.

What do you consider your major accomplishments at Delaware and Yeshiva?
At Yeshiva I had a very simple objective. Although the business school had been around for 20 years, it was still very much a start-up. It was unaccredited; it had no graduate programs; and 60 percent of the teaching was being done by adjuncts — it needed to up its game in every way. By the time I left, 75 percent of the teaching was being done by full-time faculty. The first graduate program, an MS in accounting, is now in its third year and they'll roll out an executive MBA next fall — the only executive MBA program offered on Sunday because the natural constituency of Yeshiva University happens to be one that can't go on a Saturday. They've requested their peer review team visit by the AACSB (Association to Advance Collegiate Schools of Business), so I moved them up to where they wanted to be.
At Delaware, we made some of the same kinds of changes we look to make here. I did a fair amount of fund raising, we named the school, developed a new center for corporate governance and named it. We increased our rankings fairly significantly.
One of the things I'm most proud of at Delaware and Case Western Reserve before that, was the international programs — in particular, the international programs that we developed in central and eastern Europe. When I was at Case, we brought to Budapest, Hungary, in 1995 the first western accredited MBA program to the former Soviet bloc. And while I was at Delaware, we built a new graduate school of business in Sarajevo, Bosnia and Herzegovina — the first western accredited business program in the former Yugoslavia.

You maintain a dean's blog and you've hosted Twitter chats. Why is it important to connect with people in those ways?
Over the years, I've discovered that you can't communicate to your audiences enough. When I was at Delaware, I always assumed that since I knew everything that was going on, so did everybody else. Just keeping people aware of what's going on turns out to be very useful.

What are your research interests?
My interest is broadly in the management of technology. I told my students that I reached my peak of technical competence in the summer of '67 and it's been all downhill since then, but I've still been interested in the impact of technology, how we manage that technology, and how technology affects organizations and people. Over the years I've developed an interest in cross-cultural differences in the use of technology and the strategy of using technology to support organizations in meaningful and profitable ways. I'm also interested in how technology impacts governance.

What are your interests and hobbies outside work?
I love being outdoors, bicycling, hiking, climbing — rocks or mountains — and skiing. When I lived in Cleveland I did a lot of cross-country skiing, but when you live in Delaware and D.C., you don't see a lot of snow for cross-country skiing, so I'm limited to downhill these days. I also like to wander around with a camera and take pictures and listen to music.