Television & Film
A Veteran Returns to Her Son in 'Fort Bliss'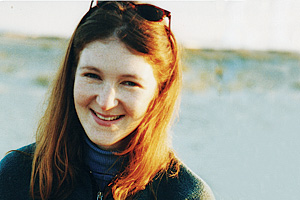 The physical separation is tough enough. That a mother in Afghanistan can't hug her son in Alabama, a father in Iraq can't kiss his daughter in Iowa, we readily realize.
But what of the milestones that are missed? Crawling becomes walking. Sounds become words. Dance recitals and ballgames proceed unattended. Time marches on, and soldiers come home to children who have changed.
"This is a young army," says School of Communication professor Claudia Myers, whose forthcoming feature film, Fort Bliss, chronicles a single mother returning from a tour of duty in Afghanistan to rebuild her relationship with her five-year-old son. "There's certainly a cost borne by people in our military, but there's also a cost borne by the families. It's a complex and emotional issue, and I think it's one that we should be talking about."
Myers wrote the movie, which begins shooting next year in New Mexico, after spending time with servicemen and women for documentaries and interactive role-playing films she made for the army. While interviewing infantrymen for a movie about leadership, she encountered a single father who left his child with the neighbors when he went overseas to fight.
"It made me think about the social dimension of the war in a way I hadn't before," said Myers, who was named Filmmaker of the Month in October by the District of Columbia Office of Motion Picture and Television Development. "I became interested in the challenges and the complexities of these two sides of your life pulling you in opposite directions. In a lot of ways it's a challenge faced by a lot of working parents."
When Myers becomes intrigued by a subject, the result often is a script. Among her writing credits is Kettle of Fish, a romantic comedy starring Matthew Modine that won a Nickelodeon Screenwriting Award. She's written other features and produced and directed nonfiction projects as well.

Fort Bliss was one of just four screenplays selected for the 2011 Hamptons Screenwriters Lab, where Myers was mentored by Black Swan writer Mark Heyman and Half Nelson writer Anna Boden.
"It was really valuable to have two points of view on the script," Myers said. "They were complementary in a really nice way. It didn't change the story, but it helped focus it and strengthened the arc of the character."
Michelle Monaghan, who's starred in Gone Baby Gone and Mission: Impossible III, has signed on to star in Fort Bliss, which Myers will direct and coproduce. The film has a $1.5 million budget, and it's gotten the approval of the army which will provide access to locations, vehicles, equipment, and personnel.
Once it's in the can, as the old saying goes, Myers will work to secure distribution.
"It's a really strong character piece, so it offers good festival prospects," she said. "It has the opportunity for a really good performance. I think it will resonate with a pretty broad audience. Largely because while it does deal with a specific facet of military experience, it's also about the challenges faced by a lot of working parents, especially mothers.
"This is not a political film, it's not a war film. It's about the social costs of war."