Government & Politics
Newbold's Next Office Is in the Supreme Court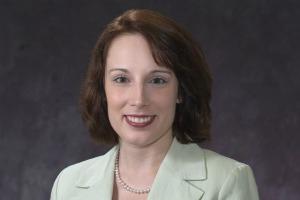 The view from Stephanie Newbold's Ward Circle Building third-floor office is inspiring, particularly in the winter when the trees shed their leaves to reveal the magnificent National Cathedral.

The School of Public Affairs professor loves reading, writing, and meeting with students in the bright, immaculately neat space, but even she would admit it ranks below other offices she's occupied.

Newbold previously worked in the West Wing of the White House (kitty-corner to the Oval Office) and on the grounds of Thomas Jefferson's Monticello. In February she was named one of four Supreme Court Fellows, and when she begins the prestigious appointment in August, she'll be working in the United States' most iconic courthouse.

"I think the fellowship is a wonderful opportunity for me to gain understanding about how the federal courts work," Newbold said. "[There's] a real gap in the literature on how the judiciary works. We spend a lot of time in public administration and political science talking about Congress, the presidency, but there's very little out there about how the judicial branch of government is organized, how it's administered. It's a really good opportunity for me to inform the literature about a number of the important responsibilities that the Supreme Court and the judiciary in general provide."

When she finishes the yearlong fellowship, Newbold will join SPA's Jon Gould and the Washington College of Law's Mary Clark and Ira Robbins on AU's largest-in-the-country roster of former Supreme Court Fellows on faculty.

"She's very dynamic," said SPA professor David Rosenbloom, who was instrumental in bringing Newbold to the Department of Public Administration and Policy in 2009. "She'll get a much deeper understanding of the internal dynamics of the court. The exposure will be invaluable, and she'll relay that. Students in [her] courses will benefit immensely."

A North Carolina native with a whole lot of Dixie still in her voice, Newbold grew up enamored with the Founding Fathers. Her stint as a White House intern in 2000 while a junior in college solidified her desire to learn the intricacies of the government structure they created.

"It was an incredible experience," said Newbold, who worked in the Office of Chief of Staff John Podesta. "I got to really learn how government was working from the inside. It's incredibly complex . . . There's a lot of maneuvering in terms of establishing your position and gaining the necessary support for the implementation of your policy proposal. It's not an easy task."

Newbold went on to earn her PhD from Virginia Tech. Her dissertation, which became a book, was on Thomas Jefferson's contributions to public administration, and she was able to spend a summer working at the International Center for Jefferson Studies at Monticello.

Oddly, general opinion in the field held that Jefferson made no administrative contribution to the development of the American state, Newbold said.

"I found it really striking that someone who was ambassador to France, secretary of state, president of the United States, founder of the University of Virginia, would not have any significant contribution to how we think about administration in the democratic context," she said. "In my archival research I found a number of important examples that demonstrated how he contributed to the development of not only public administration but the preservation of the democratic form of government found in the Constitution."

She points to Jefferson's creation of UVa.

"Jefferson was the first individual that structured a liberal arts curriculum in higher education in the U.S., and he thought that students had to be exposed to a number of the great disciplines of Western thought," she said. "Once you have a taste of each discipline, whether it's mathematics, the sciences, foreign languages, literature, you're able to figure out which one of those you like best. He was cognizant of the importance of education to a democratic state, and how if the state didn't invest in education it couldn't expect to have the type of populace that would preserve the values that were so important in his generation.

"It's so interesting to see how one of the most prolific founders had an extraordinary impact on a very important practical policy issue—education—that is still significant to what we consider today to be fundamental in terms of government's responsibility."

Newbold's fascination with the intersection of history and public administration comes to life in her office. A copy of the Declaration of Independence that hung on her grandfather's wall for 35 years now adorns hers. There's a picture of her cocker spaniel, Abigail Adams, and a sign that proclaims "I cannot live without books."

The room is full of them, as is the Supreme Court and, it's safe to say, whichever extraordinary office Stephanie Newbold occupies next.