Research
Finding Hope in the Fight against HIV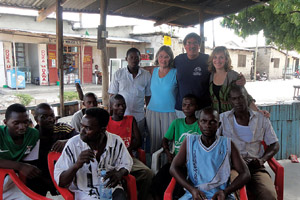 In Tanzania, the spread of HIV is intimately related to the sexual practices of men and their attitudes toward women. Yet studies of sexual partner violence and the association of HIV-risk behavior from young men's perspectives are rare.
That's where the work of Thespina (Nina) Yamanis, who joined AU's School of International Service in 2011 after being a postdoctorate fellow at the Duke Global Health Institute, yields insights into how the global health threat of HIV/AIDS can be addressed.
Yamanis earned a PhD in health behavior and health education at the Gillings School of Global Public Health, University of North Carolina—Chapel Hill. She also has a master's of public health from UNC.
She spent 10 months in Tanzania doing research for her dissertation, and returned last year. But her interest in public health goes back to her undergraduate days, when she wrote her honors thesis on attitudes toward breast cancer treatment.
Before graduate school she worked several years in North Carolina as a social worker, mostly as a victim's advocate in child protective services.
"I've always been attracted to working with highly vulnerable populations, especially youth," Yamanis says.
She decided to concentrate on prevention, and that led her to graduate school. Although she was interested in global HIV/AIDS, she had never worked in Africa. Then Professor Suzanne Maman, who conducted research in Africa and joined UNC's department from Johns Hopkins University, became her advisor.
Soon the PhD student was doing research in Tanzania. Yamanis, who speaks Greek and Spanish and had studied French, now had a chance to learn another language: Swahili.

HIV and Camps
One way to try to fight the spread of HIV is by focusing on places where young men typically congregate—and where peer pressure, both positive and negative, is a major force in their lives. That's the approach Yamanis and her fellow researchers — Maman, Jessie Mbwambo, Jo Anne Earp, and Lusajo Kajula — focused on in their study of social venues and HIV risk for young men in Dar es Salaam, Tanzania.
"The approach was to find venues where young men meet new sexual partners," Yamanis says. "It's called the place method that was developed in part with support by USAID to target high-risk populations for HIV. We found that about two-thirds of the places where young men met new sexual partners in this particular ward in Dar es Salaam were in places they called camps."
Camps are male-dominated groups typically formed around a common interest, such as soccer or boxing. They maintain lists of members and require dues, and they provide a place for young men to gather. They're also perfect places to see peer pressure, particularly related to risky sexual behavior. And they offer a potential site to reinforce healthy practices.
"We did find substantial risk behaviors," Yamanis says. "In that first study we interviewed 670 men [age 15 to 19], and 20 percent of them reported some kind of symptom of a sexually transmitted infection in the last four weeks. And then 40 percent of those who were sexually active were having multiple partners at the same time. About the same percentage were committing violence to their partners," the impetus behind another study Yamanis took part in.

Intimate Partner Violence
How is gender-based violence associated with the spread of HIV? Yamanis explored that issue in a study coauthored by Maman, Fiona Kouyoumdjian, Melissa Watt, and Jessie Mbwambo.
Women who are coerced into having sex are less likely to negotiate condom use. And there are biological risks associated with violence: if a woman is raped, a tear in her vagina makes HIV easier to spread.
Because of the power relationship they find themselves in, women may lack the financial resources to leave an abusive relationship.
In the 2004 survey, the responses of 360 men between ages 16–24 in Dar es Salaam who all had sex within the past six months showed their attitudes toward women:
40.6 percent thought a woman should do nothing if her husband wants to have a girlfriend
52.2 percent thought a woman should tolerate being beaten 
45 percent thought a woman who leaves her abusive partner must leave her children behind
Upending Stereotypes
Despite such attitudes, recent research led by UNC that Yamanis was part of offers hope for the future. Other researchers on the project were Maman, Mbwambo, and Kajula.
In a microfinance pilot study in which 19 Tanzanian men participated, each man was given a $100 business loan. The loan recipients were monitored, and they were required to repay the loan within six months.
The microfinance NGO the UNC group partnered with was skeptical. After all, its members had worked with young men in Dar es Salaam for years, and microloans are usually given to women. Men, it's often feared, will waste the money on alcohol or sex, and they won't repay the loans.
But the skeptics were in for a surprise: only one of the men defaulted on the loans, and four repaid them early.
Thirty men from the same camps were also chosen to undergo a weeklong training on HIV and violence prevention. Monitored over the course of nine months, these young men, few of whom had ever admitted to using a condom themselves, became condom-use promoters, encouraged people to get HIV tests, and spoke against violence against women.
"From our perspective, microfinance attacks some of the structural problems people have, which is lack of employment and the lack of hope for the future," Yamanis says.
She hopes to expand that project in the future.
Even so, it would be easy to be pessimistic about changing men's attitudes toward risky sexual behavior. But Yamanis is not discouraged.
"I see a lot of hope," she says. "Doing that intervention with the young men and being there, watching them change was very hopeful to me. When you lack opportunity and you have so little hope for the future, how can one expect that you're going to engage in healthy behaviors?
"I see hope in the sense that people, once they have been exposed to educational interventions, do seem to change. The challenge remains in sustaining those behaviors, investing in interventions that are going to be around for a while and actually make long-term changes in behaviors, not just short-term ones."