First Person
Kogod in Mombasa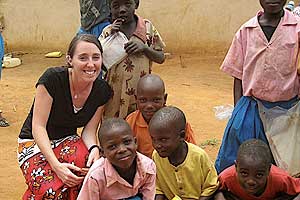 Kogod School of Business MBA student Abby Croshaw is spending this summer working at Yehu, a microfinance organization in Mombasa, Kenya.
Croshaw is blogging about the experience, which she says has been incredibly rewarding.
"I wanted to work in microfinance because it involves an industry I enjoy, and it's a cause I'm proud to stand behind," she said. "I've been fascinated with the concept ever since I learned about it and wanted to get involved, and a developing country in Africa just seemed like an ideal place. I especially like the bank I'm working for, Yehu, because many of its clients are in rural areas, and I've had a chance to really dig in and make a difference for the organization.
"Most of all, I have enjoyed being on the front lines, seeing things happen right at the source, meeting the very people we are working to help."