Achievements
Truman Scholar Calls Success 'Unimaginable'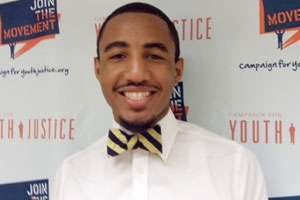 Deon T. Jones, SPA/BA '14, has been named a 2013 Harry S. Truman Scholar. Jones—the youngest elected official in the history of Washington, D.C.; a former White House intern; and a first-generation college student—stands out for his exemplary record of public service. 
The award, established as a memorial to 33rd President Harry S. Truman, provides recipients with up to $30,000 for graduate study leading to careers in the government or nonprofit sector. Jones is one of 62 Truman Scholars selected from a nationwide pool of 629 candidates.
"Unimaginable," says Jones of his most recent accomplishment. "American University changed my life; completely changed everything. … Part of who I am right now wouldn't be possible without the people I met who supported me at AU."
MORE: Jones's undergraduate experience at AU

Jones, who interned in the Vice President's Correspondence Office and ran into Vice President Joe Biden at the U.S. Embassy in London this semester while studying abroad at King's College London, will spend this summer as a Public Policy and International Affairs fellow at University of California, Berkeley's Goldman School of Public Policy. After graduating from AU next year, Jones plans to write a memoir about his life so far—touching on his experience as a national spokesperson for the Campaign for Youth Justice, a campus campaign coordinator for Teach For America, and an emerging leader for the Congressional Black Caucus Foundation—before attending law school.
MORE: Jones's White House internship

He hopes to continue advocating for youth in the juvenile justice system—a cause he became directly involved in with his creation of the MANifest Leadership Institute, a series of workshops for young men who are newly released from the D.C. juvenile detention center—and may dabble in motivational speaking as a way to inspire other African American students and those from diverse backgrounds to apply for the same kinds of scholarships and opportunities he has received, Jones says.
"One of the things I love so much about winning this is it shows it's possible, that you can actually do it—it all goes into believing in yourself," he says. 
This year American University nominated five students, including Andrew Menefee, SIS/BA '13, and Alifa Watkins, CAS/BA '13, who were named national finalists. AU is one of 17 universities in the country to have three or more finalists in 2013. Since 2000, 11 Truman Scholars and 22 national finalists have hailed from AU.
MORE: Office of Merit Awards and other scholarship opportunities