Internships
AU Maintains Top Ranking For Internships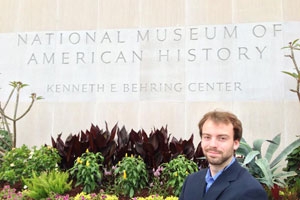 Among national universities, AU boasts the highest percentage of interning students on the U.S. News Short List, topping its previous best of 85 percent. AU's class of 2012 set a university record for internships, with 90 percent of responding graduates interning.
"One of the reasons AU is a national leader in this area is an institutional culture that values integrating academics and experiential education," says Gihan Fernando, executive director of the Career Center. "Faculty recognize that a significant aspect of being an AU student is participating in one or more internships."
Omar Eaton-Martinez, intern and fellows program manager for the National Museum of American History, agrees that many AU students are eager to apply their academic interests outside of the classroom.
"I think that the type of students who end up going to AU are worldly in thought and in their approach to their careers," he says. At campus recruiting events, he meets many AU students who are "looking for ways to use [their] powerful degree outside the box. And that's what we're looking for here."
Brian Rowe, director of experiential education in the Career Center, echoes these sentiments.
"AU attracts students who are interested in engaging with the community, and who are ready, willing, and able to do so," he says. "Students want to test what they're learning in the classroom, and often find that their learning is enhanced through experience in the field."
Many employers feel a responsibility to provide students with experience in the field and opportunities to grow professionally, including Kyler Abernathy, director of research in remote imaging at National Geographic.
"Our intent and hope for the interns is that they get some 'real-world' experience that will give them a better idea of what a professional position might be like and better prepare them to deal with future employment situations," he says.
Abernathy works with interns on the Crittercam team at National Geographic to turn raw footage from around the world into finished educational materials.
"Our interns need to be able take initiative and find ways to make things happen," he says. AU interns "have had good creative skills and demonstrated the independent initiative that we need."
AU's increasingly diverse student body is another draw for employers, according to Rowe.
"In this international and multicultural environment, students quickly learn to engage with a diverse range of ideas," says Rowe. "Employers value team members who understand different perspectives, and AU students consistently demonstrate multicultural competency."
Eaton-Martinez agrees that these are skills that can help students stand out in the internship and job market.
"In order for us to go out and get the best, most diverse talent, we have to do outreach," says Eaton-Martinez. Part of his job, he says, is to bring in applicants who "best represent the face of America… I think American [University] can do that."
It is ultimately the students themselves who drive AU's record success, Fernando points out.
"The student body is active, engaged, intellectually curious, and diverse in the broadest sense of the term," says Fernando. "When employers have had AU students as interns, they almost always want to continue with AU students because it is such a positive experience for both sides."