Achievements
2014 an Outstanding Year for National Scholarship Success at AU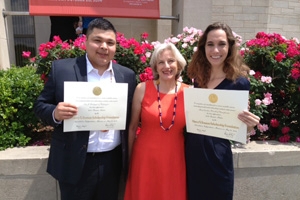 Fulbright. Boren. Udall. Pickering. Truman. What do these names have in common? Two things: they're all prestigious national scholarships and fellowships, and American University (AU) students and alumni earned all of them in 2014.
This was a banner year for AU students and alumni, who were named recipients, alternates, and finalists for nationally competitive scholarships in more than 100 instances. Those recognized represent a variety of programs and majors at AU, highlighting the strength of the university's academic diversity and the support provided by faculty and staff.
"When a student wins a national scholarship, it is a tribute to his or her vision, time management skills, and willingness to make sacrifices in pursuit of a potentially life-changing opportunity that may or may not come through," says Paula Warrick, director of the Office of Merit Awards. "The variety of interests our recipients have attests to the broad range of academic departments at AU that are providing great instruction and mentoring."
Record-Breakers
A record 23 AU students were awarded Boren Scholarships and Fellowships this year. Twelve undergraduates received Boren Scholarships and 11 graduate students received Boren Fellowships, making the university number one in the nation in combined Boren recipients for the second consecutive year.

Boren recipients receive funds to study and conduct research in languages and areas of the world that are deemed critical to U.S. interests. These regions include Africa, Asia, Central and Eastern Europe, Latin America, and the Middle East.
Continued Success
Last year AU was named a Top-Producing Fulbright Institution, with 11 recipients and three alternates. Fifteen AU students have been awarded Fulbright Grants through the U.S. Student Scholars program. In addition, an alumna has been named an alternate for the Fulbright Clinton Fellowship.
The Fulbright Program offers participants—chosen for their academic merit and ambassadorial qualities—the opportunity to study, teach, or conduct research around the world. Previous AU Fulbright recipients have traveled to such diverse places as Spain, Venezuela, South Korea, Indonesia, Mexico, Brazil, India, New Zealand, and Ethiopia.
One AU, Many Schools
The recipients of these nationally competitive scholarships are representative of the diverse range of schools and programs at AU and of the student body as a whole.
Eric Rodriguez, from the College of Arts and Sciences (CAS), and Caroline Brazill, from the School of International Service (SIS), became AU's 10th and 11th Truman Scholars in 10 years. AU is one of only five institutions with multiple Truman Scholars this year. The Harry S. Truman Scholarship is a federal scholarship awarded to outstanding college juniors with a commitment to public service and demonstrated leadership potential. Truman Scholars receive significant funding for graduate school and attend a leadership program.
Rachael Somerville, CAS/SIS/BA '15, was named AU's 13th Udall Scholar since 2007. AU remains second in the U.S. in the number of Udall Scholars over the past eight years. The Udall Scholarship provides support for sophomores and juniors committed to careers related to the environment, tribal public policy, or Native American health care. Rodriguez, one of this year's Truman Scholars, was AU's Udall Scholar in 2013.
Ian Gansler, SPA/BA '17, and Matt Waskiewicz, CAS/SPA/BA '16, were both named Fulbright UK Summer Institute Recipients. The US-UK Fulbright Commission provides opportunities for undergraduates to travel to the UK for an academic and cultural summer program.  
Jalita Moore, SIS/BA '14, became AU's 12th Pickering Fellow since 2004. The Thomas R. Pickering Foreign Affairs Fellowship provides support and preparation for outstanding candidates to enter the U.S. Department of State Foreign Service, with a special emphasis on students traditionally underrepresented in the U.S. Foreign Service.
This year's four National Oceanic and Atmospheric Administration (NOAA) Ernest F. Hollings Scholarship recipients represent a wide range of majors: Billie Case, CAS/BA '16, is an environmental studies major; Jennifer Makanani Bell, CAS/BA '16, is an anthropology major; Valerie Rennoll, CAS/BA '16, is an audio technology major; and Lindsay Wylie, SIS/CAS/BA '16, is a double major in international studies and mathematics. The NOAA-Hollings Scholarship Program is intended to increase undergraduate training in environmental science and technology and encourage careers in public service and science education. The program provides successful undergraduate applicants with awards that include academic assistance and a hands-on practical internship.
Faculty Support
Students often credit AU faculty with giving them the best possible preparation needed to win competitive awards. Many faculty members volunteer their time and expertise, going beyond their normal academic duties and making themselves available for advising and practice interviews.
"More than 200 faculty and staff mentors assisted candidates in various ways this past year, overseeing students' preparation of proposals, preparing students for interviews, or helping them sharpen drafts of their applications," says Warrick. "That is an impressive statement of the value our community attaches to student development. Their support is indispensable, because it gives our office a reach it would not have otherwise."

Congratulations to all of this year's scholarship recipients, finalists, and alternates.
If you are a current AU student or AU alum and you are interested in learning more about award opportunities, please visit the Office of Merit Awards website.