Achievements
16 Graduate Students Named PMF Finalists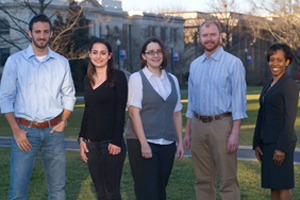 American University (AU) has risen from seventh to fifth in national rankings for its number of graduate students named Presidential Management Fellowship (PMF) Finalists. This year's 16 PMF Finalists hail from the School of International Service (SIS), School of Public Affairs (SPA), and Washington College of Law (WCL).

The PMF Program is a leadership development program for advanced degree candidates, created more than three decades ago by Executive Order to attract and develop a cadre of potential government leaders. Finalists who assume two-year appointments with federal agencies earn competitive salaries, benefits, and a coveted chance to gain experience and advance with a federal agency.

"PMF Finalists are seen as 'rising stars' in civil service," says Robert SanGeorge, Career Center advisor. "Many have taken on very high-level positions in agencies like the Department of State and the Department of Transportation."

AU's fifth place ranking is largely the result of SIS graduate students' success. Of AU's 16 Finalists, 13 are SIS students, nearly twice as many as in 2011. Furthermore, SIS is now tied with Georgetown University's School of Foreign Service for second place among Association of Professional Schools of International Affairs (APSIA) institutions. SIS is second only to Harvard University's Kennedy School of Government, which yielded 15 PMF Finalists, according to an APSIA survey.

"These numbers are even more impressive when you take into account that, nationwide, 26 percent fewer applicants were named Finalists than last year," says SanGeorge.

Of the approximately 9,000 PMF applicants, only 600 were named Finalists.

Since 2010, SanGeorge has successfully spearheaded the Career Center's efforts to coach PMF candidates through the arduous application process. He developed a Blackboard site with useful content and practice materials for the candidates, held multiple information sessions, created networking opportunities between applicants and previous PMF Finalists from AU, enlisted the help of Career Center advisor Felicia Parks who led a workshop on behavioral interviewing, and offered one-on-one coaching to prepare semi-finalists for the difficult in-person interview assessment phase. SanGeorge personally counseled 15 of this year's 16 Finalists.

"Robert SanGeorge was a godsend," says 2012 PMF Finalist Joanna Mantello, SIS/MA '12. "He could not have prepared us better, and I honestly think he deserves a medal."

Angell Green, another 2012 PMF Finalist, agrees.

"I felt very well prepared by the coaching I received," says Green, SPA/MPA '12. "I was still a bit nervous going into the test and interview, but I felt that I possessed the knowledge I needed to emerge successful."

The next step for Finalists is to secure a position with a federal agency, which is precisely what attracted PMF Finalist Seth Maddox to AU.

"I knew when I came to American that I wanted to work for the federal government on policy," says Maddox, SIS/MA '12, who hopes to obtain a position involving regional security policy with either the Department of Defense or the Department of State. "The PMF is providing me with a great opportunity to get started down that path right away."

On February 27, AU president Neil Kerwin will host an evening reception for AU's 16 PMF Finalists. Congratulations to Vanessa Careiro, Brian Critz, Laura Drummond, Angell Green, William Stuart Huffman, Carra Landa, Laura Lartigue, Seth Maddox, Joanna Mantello, Ethan Payton, Michael  Schwartz, Jen Sokatch, Rebecca Williamson, Danielle Wilsey, Halima Woodhead, and Amy Zuckerman.