Education
AU a Top Contributor in Teach For America's Most Diverse Corps To Date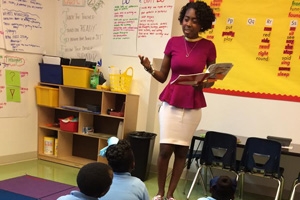 For the past several years, AU has joined the likes of Princeton, Harvard, Yale, and Georgetown University as one of Teach for America's (TFA) Top Contributors, a list that features schools with the most graduates sent to TFA each year.
This year, 21 AU graduates joined the most diverse teaching cohort in the nonprofit's history. Almost half of TFA's more than 50,000 applicants identified as people of color, nearly half received Pell Grants, and more than one-third were the first in their family to attend college.
Despite an increasingly competitive admissions process and an overall acceptance rate of just 15 percent, AU students continue to succeed. 
TFA recruiter Seon Jeon has an idea why AU students tend to do well in the application process.
"[AU students] are very strong candidates: competitive, social justice-driven, and often engaged in the D.C. community," she says. "They really understand the depth and breadth of education inequity, and they want to do something about it."
AU students are often passionate about social issues and looking for ways to enact positive change in the world, and for some, TFA is the best way to do that.
Cheria Funches, SPA/BA '14, started her time with TFA this fall, teaching at an elementary school in New Orleans. 
"My experience so far has been eye-opening," she says. "You learn so much about yourself through this experience, and it is extremely important that you have a growth mindset at all times."
Funches says she first heard about TFA at on-campus information sessions, and that she received support from her mentors at AU and from the local TFA recruiter in deciding to apply. 
"I am passionate about education reform, specifically in urban districts, and a lot of my mentors thought the best place to start would be on the ground level as a teacher," she says.
TFA continues to grow and refine its selection process to recruit top candidates. Its most recent corps had an average GPA of 3.4 and included more than 30 student-body presidents and nine Gates Millennium Scholars. 
"TFA is looking for people with leadership skills and a passion for social justice," says SPA career advisor, Jennifer Carignan. "In your application, you want to show how your background—work experience, internships, volunteer work—demonstrates that kind of passion and commitment to TFA's goals and ideals."
Funches is glad she applied. After TFA, she plans to work as a school administrator with the hope of one day opening her own school and working on education policy at the national level. For now, she is taking it one class at a time. 
"These students will remember you forever, and the impact you make on their lives will change your life as well," says Funches. "The relationships you build with the students in your region will be the start of an amazing journey."
The next deadlines to apply for Teach For America are December 5 and January 30.