Achievements
Global Learning at Ground Level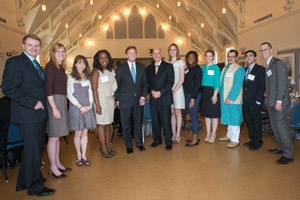 Going abroad on a Fulbright or Boren award is certainly no vacation. The AU students who win these awards are seeking and finding something else: a challenging and uniquely rewarding experience with the potential to change the course of someone's life. Sometimes that means experiencing the unexpected.
Dara Jackson-Garrett, SIS/BA '13, was teaching English on a Fulbright in Venezuela when anti-government protests erupted across the country.
"My Fulbright experience was not your typical abroad experience," says Jackson-Garrett. "Not many people come back from their Fulbright with stories about watching mass protests or the National Guard chasing people down your street. For the first time in my life, I wasn't reading about civil unrest or discussing the shortages or analyzing the situation, I was living it." 
That is the true promise of these prestigious national scholarships: the opportunity to go beyond the page, to learn by living. 
"It was the best year of my life," says Leanza Bethel, SIS/BA '15, of her Boren Scholarship in India. "I was able to study Hindi and take classes in the master's department at Manipal University, to meet with policymakers, to intern with an NGO, and conduct research for my thesis by going out into the field and interviewing women in the sex industry—just amazing opportunities." 
The Fulbright Program offers participants the opportunity to study, teach, or conduct research around the world. This year 11 AU students accepted Fulbright Grants through the U.S. Student Scholars program, one student received the newly-established Fulbright National Geographic award, two undergraduates received Fulbright United Kingdom Summer Institute awards, and one alumna was named an alternate for the Fulbright Clinton Fellowship. 
The Boren Awards recipients receive funds to study, intern, or conduct research in languages and areas of the world that are deemed critical to U.S. interests, including Africa, Asia, Central and Eastern Europe, Latin America, and the Middle East. This year 23 AU students were awarded Boren Undergraduate Scholarships and Graduate Fellowships, making the university number one in the nation in combined Boren recipients for the second consecutive year.
"I think that American University has a high success rate with Fulbright applications because the university as a whole focuses on a global view of the world," says Jackson-Garrett. "We are taught how to analyze world events, research new opinions in our respective fields, and form our own educated opinions."
The dedication of faculty and staff to fully support and guide students throughout the application process may also play a role in consistent awards success. 
"I have no doubt that the generous support I received from the AU community made all the difference in terms of my preparation of a successful Boren application," says Guru Amrit Khalsa, SIS/MA '13, who is currently in India on a Boren Fellowship, studying Hindi and conducting research on India's climate change policy. 
She credits faculty members and the Office of Merit Awards with helping her craft a research program and approach her application critically.
"My dream is to work for the federal government," says Khalsa. "I feel that my Boren Award will provide me with unique experience in attaining my professional aims."
For students considering applying for either award, these winners have some advice. 
"Your thesis should be on something you are truly passionate about," says Bethel. "Otherwise you're depriving yourself of future opportunities. The internship and career opportunities I have now to work in my chosen field come directly out of my Boren experience."
"Begin the process early, and utilize all of the resources AU has to offer," says Khalsa. "The Office of Merit Awards offers one-on-one assistance, as well as group sessions. Discuss your plans with your professors, and consult them in the early stages when you are playing with ideas–I found this incredibly helpful, in terms of tweaking my ideas and framing them in terms of U.S. national security."
And remember, ultimately, why you are going.
"I think a lot of time especially in international relations and politics in general it is easy to forget about the people who are experiencing these events," says Jackson-Garrett. "Fulbright taught me that policy is great, but that the people we are discussing, their lives, and their challenges, are very real."
The application cycle begins in September for Boren Awards, and in March for Fulbright Grants. Visit the Office of Merit Awards for more information.