Education
From BA to PhD: Former Eagle Receives Full Education at AU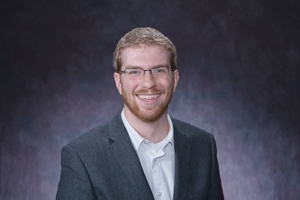 When Nick Reksten, CAS/BA '07/PhD '15, arrived at the American University (AU) as a freshman, he didn't expect that he would be leaving ten years later with a PhD in Economics, four years of advising experience, and a two-year teaching position at Sarah Lawrence College. But that is where his time at AU led him.
"I had a really good experience as an undergrad at AU," says Reksten. "The great thing about AU's faculty is that they're so open-minded, engaged, and a joy to work with."
After graduating from AU with a bachelor's degree in international studies and economics, Reksten started a job in downtown D.C. researching and reporting on renewable energy and climate change policy. 
"It quickly became clear that in order to be a serious voice on policy issues, that I would need to pursue a PhD," he says. He debated the merits of several doctoral programs, and ultimately chose to return to his alma mater. 
At AU, Reksten took full advantage of the opportunities available to him as a graduate student. Besides pursuing his coursework and teaching as an adjunct professor, he co-authored a book chapter with Jon Wisman, one of his professors, and presented their work at a conference in Montreal.
He also applied for funding through a part-time advising position with the Office of Merit Awards (OMA). This turned out to be a great move, opening up unexpected doors. 
"I knew he aspired to a teaching-oriented career, and I saw his graduate assistantship as an important opportunity to mentor him," says Paula Warrick, director of the Office of Merit Awards. "Nick had been an outstanding undergraduate student at American University, and as an advisor in our office, he was insightful and also extraordinarily patient, affirming, and steady in his interactions with his advisees.
Because of his demonstrated aptitude for working with students, Reksten was hired to stay on over summer and winter breaks, and entrusted with the management of several competitions. He mentored and co-mentored dozens of students, many of whom became finalists and recipients of national scholarships, including the Fulbright, Boren, Marshall, and Rhodes. 
"Seeing students become finalists or recipients was very fulfilling," says Reksten. "Like when a student I advised found out she won a Fulbright. It's a great feeling to know that your work really made a difference for someone."
At AU, Reksten was able to experience both sides of that kind of mentorship, with clear benefits. 
"I received a great deal of mentorship both from my department and from the OMA staff," says Reksten. "My dissertation advisor, Maria Floro, has been wonderful, teaching me a great deal about research and providing practical advice about academic jobs. OMA director Paula Warrick has been absolutely invaluable over the years. She has had an unfaltering belief in my abilities as an advisor and as an intellectual." 
Reksten believes his work with the Office of Merit Awards made a real difference when applying for teaching positions as well. 
"I think my experience advising students one-on-one was what really sold them on me," he says. This fall he started work as a guest faculty member at Sarah Lawrence College, where he teaches two courses in economics—and loves his job. 
"This job is what I went to grad school to do," says Reksten. "I'm already where I want to be." 
His advice for students entering doctoral programs at AU?
"Be strategic in how you plan and spend your time. Make connections with faculty in your department and explore opportunities in your field," he says. "It really is about presenting the whole package, about becoming well-rounded."
In making the most of his years at AU, Nick Reksten certainly seems to have followed his own advice.