Achievements
American University Ranks No. 1 Nationally for PMF Finalists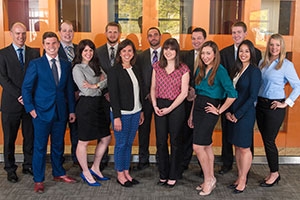 Over the past five years AU has emerged as a national leader in producing Presidential Management Fellowship (PMF) finalists and semi-finalists. This year, AU ranked first among all universities, with 43 finalists in the Presidential Management Fellow class of 2015. Despite a more competitive recruitment process, the university produced nine more finalists this year than in 2014. 
Alumni participation in the PMF coaching process and in-depth coaching by AU staff are integral components of AU's ability to lead national PMF rankings while remaining a medium-sized university.
"Our very large and loyal corps of PMF alumni are instrumental every year in mentoring our PMF semi-finalists;and when they become finalists the alums again step up to advise them on landing positions as Fellows," says Career Center and PMF advisor Robert SanGeorge.
Loren Miller, CAS/PhD '12, credits AU students' continued success to the hard work of the Career Center and its cadre of PMF advisors and supporters.  
"[AU] provided every piece of support that I could possibly need: informational meetings, alumni chats, individual coaching sessions, group interview practice, and general emotional support."
Mario Weber, SPA/MA '13, agrees, elaborating on Miller's point.
"I found that becoming a finalist required a very nuanced understanding of what the PMF program is looking for in candidates," said Weber. "I am very thankful for the insight [the advisors] provided, particularly when it came to preparing for the in-person assessment. It provided a definite advantage for myself and other AU candidates."
This year's finalists reflect strong personal motivations and a desire to serve at a national level, values that are at the core of the AU experience. Since entering graduate school, Miller dreamed of working at large government museums like the Smithsonian. She is excited about the possibilities they present for public education. 
"Institutions like the Smithsonian bring history out of academia and provide an accessible and engaging way for everyone to understand the past," said Miller. "They are vital cultural and educational resources that help people think more critically about the past and make them better citizens of the world. I decided to apply for the PMF because I thought it was a unique opportunity that would give me the chance to fulfill my desire to better the country as a public servant."
Weber, who left a career in law to work as a paramedic, is looking for an opportunity to give back on a larger scale. 
"My public service career thus far has focused on emergency medical services, which exist at the intersection of public safety, public health, and emergency preparedness," he said. "My goal is to obtain a challenging PMF placement that allows me to make a meaningful contribution to one or more of these areas at the federal level."
In her time at AU, Grace Fennell, WCL/SIS/JD/MA '14—another finalist—balanced a full course load with internships at the International Labor Organization, United Nations Development Program, and Human Rights Watch. She heard from several professors that PMF was the best way to jumpstart a career at the State Department.
"I hope to become a PMF fellow for the State Department and learn more about how to be a better public servant—specifically in the field of U.S. foreign policy," said Fennell. 
The members of AU's 2015 record-breaking cohort now have one year to land a position within the federal government, competing with a total of 600 finalists nationwide for about 400 Fellow positions. The odds are in their favor. In 2014, the average conversion rate for PMF finalists across the country was near 60%, while AU's conversion rate was over 95%. 
"The reason I went to law school was to make a difference and serve the American public," said Fennell. "I believe being a PMF gives me the best platform to start a career path towards achieving those goals."