Communications
Exploring DC: Media by Metro 2015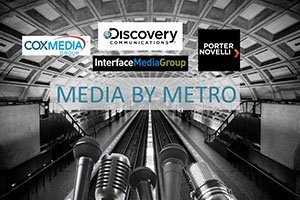 One of American University's most popular Welcome Week programs for first-year students is the Media by Metro program. The two-day program is packed with site visits to companies that encompass all aspects of the communications industry within the Washington, D.C. area. SOC Career Center advisors Felicia Parks and Julia Beyer arranged the visits and together, they lead the students around the city. Media by Metro allows incoming students to jump right in and learn more about the field and potential internship opportunities for later in their college careers. This year, students were able to get a first-hand look at Cox Media Group, Discovery Communications, Interface Media Group and Porter Novelli.  
Day one started early on the red line as the group trekked to Union Station to visit Cox Media Group. Here, students met with one of the producers and learned more about what a career in broadcast news is like. They were able to tour an actual newsroom and snap a picture of the Capitol Building from their live studio.
After stopping for lunch at Union Station, the group hopped back on the red line to Silver Spring, a few steps from the home of Discovery Communications. The students were given a tour of the post-production facility, including audio and editing suites. The visit concluded with a panel of AU alumni who spoke about their positions at Discovery and gave the freshmen great advice about internships. Students left with answers to their questions and shark-shaped flash drives, in honor of Discovery's Shark Week. 
The next morning, the group traveled to Dupont Circle where they met with multiple alumni at Interface Media Group. McKinnon de Kuyper, a current SOC Dean's Intern, was also there to answer any questions the students had about her experiences. The group explored the firm's facility, including the digital department. They were able to ask questions about the firm's interaction with clients and learn all aspects of video production for the upcoming rocket launch from the Cosmodrome in Baikonur, Kazakhstan
The final stop of the trip was with the worldwide public relations firm Porter Novelli. The students were given an overview of PR and about the firm's previous client work from employees from various departments, including alumnus and adjunct professor Anthony LaFauce, Vice President of the Digital Communications Group, and AU alumni Kelsey Balimtas, an Account Executive. Students were eager to hear about internship opportunities and asked great questions. One student commented that while he "was on the fence between a focus in journalism or public relations, Porter Novelli's process seemed to be in line with what he wanted to do with future internships".
The program ended with a short presentation about the various resources that the Career Center offers to help with job and internship searching. The students were also surprised with tickets to the Newseum – a great way to continue learning about the communications industry!