Achievements
Alumna Awarded Bosch Fellowship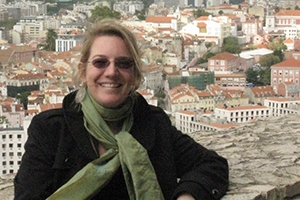 When Laura Hagood, MA arts management and art history '04, decided to apply to the prestigious Bosch Fellowship program, she knew the competition would be fierce. "They receive between 200 and 300 applications, and they only accept 15 people. I knew the odds were against me," Hagood says. "All along, I thought, 'This isn't going to happen.'"  
A cross-cultural professional development program, the Robert Bosch Foundation Fellowship offers U.S. professionals the opportunity to work as consultants at leading institutions in Germany. The program includes intensive German language training, customized work placements, and professional seminars, with the goal of creating a network of American leaders with firsthand experience with Germany's cultural environment. 
In past years, the Bosch Foundation has awarded fellowships to individuals working in business administration, journalism, law, public policy, and urban planning. This year, the foundation added a new field to the mix—cultural management. "When I got the acceptance e-mail, I was in shock for a full two weeks," says Hagood. "As one of their first cultural management fellows, this is a major professional development opportunity for me. I'm hoping this will distinguish me from my peers and allow me to take a bold step forward." 
Though the program offers many benefits, Hagood is most excited about gaining a different perspective on her field. A fundraising professional, she hopes that working in a German cultural institution will deepen and broaden her practice. "When you're doing your job, it can be hard to step back and really analyze what you're doing," she says. "Working in Germany will give me the opportunity to see what development and philanthropy look like there, and will give me a unique vantage point that I can bring back to the States."  
Every Bosch Fellow is asked to select a topic to research and write about while working abroad. Hagood chose museum revenue diversification strategies as her focus, with hopes of expanding her knowledge and helping German institutions to better understand effective fundraising. "In the United States, the role of private fundraising is key for almost any nonprofit, but in Germany and most of Europe, it's different because governments have traditionally funded cultural organizations almost completely," Hagood says. 
Recently, however, German and European government funding has been trimmed, forcing some organizations to merge with others, or even close their doors. Now that their primary source of support is becoming less secure, German cultural institutions are looking at U.S. philanthropy as a possible model. Because cultural managers in Europe have never needed to fundraise before, many organizations are unsure of how to tackle this new challenge. "The biggest obstacle to the development of fundraising is the fact that there are few trained European fundraisers," Hagood says.  
Hagood feels that her years of experience will help inform her research and work, and hopefully contribute to the professionalization of fundraising in Germany. "There is a real societal benefit to philanthropy, and I feel like I've been in my profession long enough that I can be useful in another cultural setting," Hagood says. "I also think I know what questions to ask. If I had done this program ten years ago, I'm not sure I would have known what to do with it."  
Though she worked hard to win the fellowship, Hagood also believes that without the support she received from American University, she would not have been successful. A key individual she credits is Sherburne Laughlin, an AU arts management professor and former director of the program. Not only did Laughlin send her the initial opportunity, but she connected Hagood with her husband, a former Bosch fellow, and spoke with the Foundation to find out if it was worthwhile for Hagood to apply. "She was incredibly encouraging and helpful," says Hagood. "If it hadn't been for her, I don't think I would have applied."  
Hagood also received an incredible amount of support from the AU Office of Merit Awards. The office connected Hagood with a School of International Service professor, Aaron Bosenecker, who helped with the application; it also set up a mock interview to help her prepare for the final phase of the application process. "It was like having a cheering squad or coaching team helping me every step of the way. It's amazing that after you graduate, there's this whole network of support for you, just by virtue of having a degree from AU," Hagood says. "The level of resources that were devoted to helping me get this fellowship was really exceptional." 
Currently, Hagood is completing four hours of weekly German language training here in Washington, DC. In early August, she will travel to Berlin to continue one month of full-time language study, during which she will determine where she will be placed for her six-month work assignment. Though she is uncertain of what lies ahead, Hagood is thrilled to embark on a journey of personal, cultural, and professional growth. 
"When you have an experience with something very different, you never look at where you came from quite the same way," she says. "This experience will prompt me to ask questions I never would have thought to ask before. Having the opportunity to develop that outside perspective—that's worth its weight in gold."